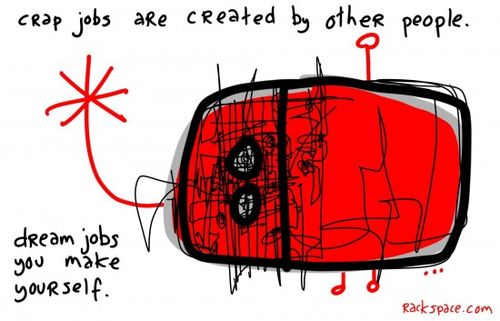 permissions granted for use of the above cartoon by Hugh MacLeod
In spite of my classic business education and conservative ways, I have a deep appreciation for artists who tear into the essence of the human condition to challenge the traditionally held views of society.  All is not right since that one bite in the Garden of Eden.
A recent post I saw in Copyblogger.com by Hugh MacLeod inspired me to dig into his story.  His artwork brought a smile of irreverent recognition for the prevalent challenges with so many in the workforce.  Hugh's website, GapingVoid.com, includes a number of edgy "Cube Grenades" that he fiendishly lobs into the lives of his corporate captive audiences.  Take a scroll around his cartoon log. Be sure to subscribe to his daily cartoons for an emotionally explosive reminder of how your work can be a noble expression of your purpose… or not! 
If you're a fan of the hit TV show The Office, then for sure, Hugh's artwork will curl your lips upward.  A bit of parody mixed with a dose of purpose may be just the recipe for prodding you to be on-purpose.
Hugh provides us with a great example of a person with a love and talent for something that doesn't fit the mold of what's expected.  Instead of compromising who he is to become someone he isn't, he's growing who he is in order to be more of whom he can become.  Sure, he's working hard at it!  Sure, you're working hard too.  Hugh provides yet another profile of a person building a life where the inner work and outer work are aligned and integrated in a productive and profitable manner.
Thanks Hugh for your Cube Grenades that blow holes in the facade of living with contented, unexamined mediocrity.  You're encouraging us all to step into the boldness of being on-purpose:  Be Yourself> Prosper> Make A Difference.