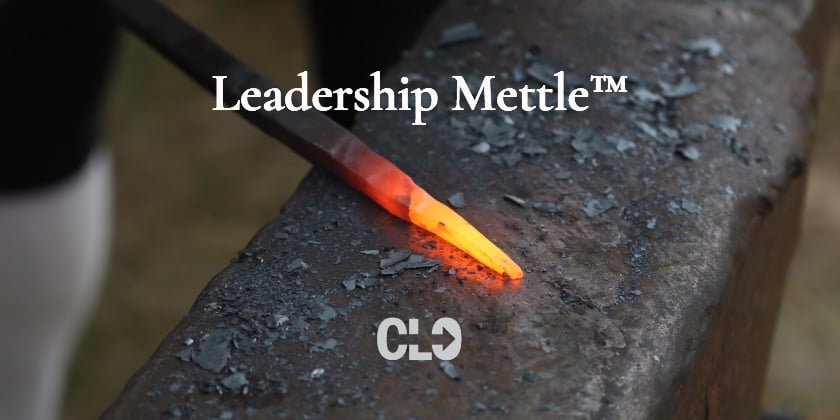 Keynote, Programs & Training
When the pressure is on, that's when character counts and the mettle of a leader is exposed. Leadership Mettle is a message that awakens and challenges leaders to enter into the refinement process of becoming an ethical and authentic leader on and off the job. This is a message and method of reforming business leadership so we who collectively work in and through companies ascend to our highest and noblest calling of service in the marketplace and society.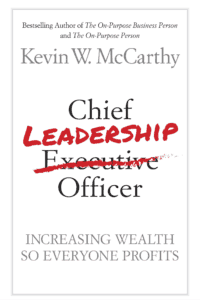 Leadership Mettle is largely based on Kevin W. McCarthy's books, especially his newest book, Chief Leadership Officer: Increasing Wealth So Everyone Profits. The premise is simple: Chief Executive Officers are an increasingly obsolete and inappropriate leadership model for business today and tomorrow. Top performing companies of tomorrow will be led by Chief Leadership Officers (CLOs). We're on the cusp of a business reformation.
Once one knows to look for it, the evidence mounts. With the Digital Age comes the Internet of Things, Moore's Law, and Artificial Intelligence. These are but a few of the global realities impacting the heart and soul of business. Despite this speed of innovation, rapidly shifting markets, and modern production methods, business organizational design and development remain largely unchanged from the Taylorism rooted in the Industrial Age.
New times called for new leadership in both people and perspective. Generations of business people have been raised in the CEO-run style of business. Today, that management system is increasingly obsolete and ineffective at engaging the hearts and minds of people in the workplace. The human, ecological, and financial costs are enormously wasteful.
Take heart. Let's not throw the baby out with the bathwater. Leadership Mettle offers an optimistic message and alternative way for leaders of today and tomorrow to do business more completely right by honing their leadership competency from the inside out.
Best Keynote Speaker Audiences for Leadership Mettle:
Leadership Mettle™ is for forward-thinking CEOs, C-Suite Executives, and Entrepreneurs:
CEOs of companies in mid-market and larger companies
C-Suite leaders in mid-market and smaller companies
B-School students (and faculty)
Start-up leaders in Entrepreneurial Centers or incubators
Youthful, rising leaders
Women-owned business Presidents and CEOs
Benefits Corporation (B-Corp) CEOs
Key Leadership Mettle Message Points:
Business and capitalism have a marketing problem.
The faster the world changes, the more people need a solid foundation.
Ethics and character are an informed choice with profitable benefits.
We don't have an absence of leaders; we have an absence of mature leaders.
The age beyond the Digital Age is the Age of Purpose and Meaning.
Purpose is the cause. Profit is the effect. People are the connection.
Leadership Mettle Keynote Address
Keynote addresses are vital to the success of your event. Keynote speakers are typically used to open or close a convention or open and close a day of a multi-day conference. These critical messages may run from as brief as 20 minutes to as long as 75 minutes. The Keynote speaker's role is to uplift the audience, set the stage for what's next, and advance the company's or association's business objectives. Crafting a keynote speech starts months in advance with research, interviews, thought, writing, development, and rehearsal.
The celebrity public speaker for your conference isn't necessarily the best keynote speaker. Like any professional, the best keynote speakers make it look easy simply because of the advanced preparation and practice preceding the performance. Kevin W. McCarthy is a highly experienced keynote speaker. He's been a continuous Professional Member of the National Speakers Association since 1993.
Leadership Mettle Breakout Session
Whereas keynote speeches typically inspire and offer valuable take-aways, breakout sessions move ideas into actionable next steps for a smaller segment of your conference attendees.
Clients who engage Kevin as a keynote speaker will often hire him to do one or two follow-up breakout sessions. Breakout sessions typically run from 60 minutes to 120 minutes. The added time and smaller setting give the audience more opportunity with Kevin to delve into more personalized and practical application of the Leadership Mettle. Typically, this includes:
Discussing the greatest challenges business leaders face
Discovering the keys to successfully syncing their personal responsibilities and CEO positional role with their business's responsibilities and results
Writing a personal 2-word purpose statement using our proprietary tool found at www.ONPURPOSE.me
Leadership Mettle™ Training Programs
Training programs run from a half-day to a multi-day training, typically hosted at or near your location. Kevin also offers live video presentations and training.