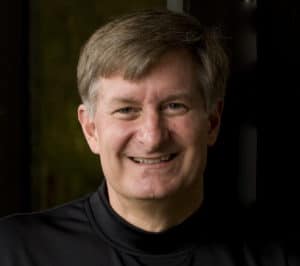 Kevin W. McCarthy is a classically educated businessman with an undergraduate degree in business and economics from Lehigh University and an MBA from The Darden School on the grounds of the University of Virginia. He's the Chief Leadership Officer of On-Purpose Partners, a business strategy advisory firm serving CEOs and CLOs that is based in Winter Park, FL. He founded the firm in 1983.
Those are the raw facts about Kevin. Now let's meet the real Kevin—the person, the entrepreneur, and the business owner for over five decades. His first sweet taste of a business start-up was in elementary school selling penny candy at a 500% markup to his classmates on the school bus. Not only did he feed his sweet tooth, it enriched his dentist's business at his parents' expense.
Years later … as a "much older and wiser" 8th-grade class president at Shady Side Academy in Pittsburgh, Kevin successfully negotiated for his class to obtain the first ever Coca-Cola fountain concession in the Middle School lunch room. Kevin says, "That venture funded our class parties through senior high. Being elected class president every year thereafter, in my senior yearbook the editors nicknamed me "The Resident President."
Fast forward past the earlier adult years when Kevin was a USPTA teaching tennis professional, a greeting card publisher, and a commercial real estate developer. Since the late 1980s, Kevin has likely directly or indirectly influenced your life and work through his visionary thinking and writing in the field of business leadership. At that time, he began a conversation about purpose and being on-purpose. Even today, his On-Purpose® Approach is the gold standard in this field and still remains on the leading edge of personal development and business leadership thinking.
If you talk about knowing your purpose or starting your business with your why, then you can thank Kevin's bestselling book series The On-Purpose Person (1992, 2009) and The On-Purpose Business Person (1998, 2013).
Do you use stories to communicate your business story? In 2002, Kevin launched Strategic Story Studios with a new business partner who previously ran Disney's Yellow Shoes internal marketing agency. Thanks to their seminars and consulting, business leaders learned to leverage the power of strategic stories to better reach their team members and customers. The company motto was, "Facts inform. Stories transform.™"
What's next for this innovator?
Chief Leadership Officer is Kevin's newest book. Yet again, Kevin is peering into the future with clear thinking and methods. The premise is simple: CEOs are increasingly obsolete and will be replaced in the coming years by CLOs. Let the business reformation begin!
Kevin's Linkedin Profile
https://www.linkedin.com/in/kevinwmccarthy/
Website for On-Purpose: