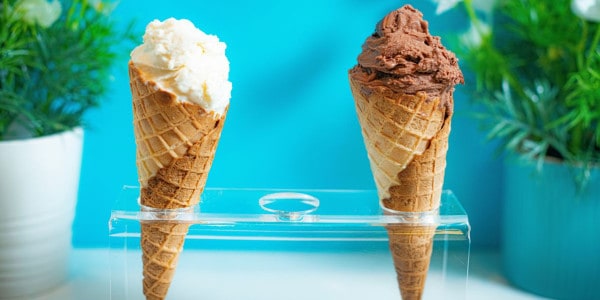 Related article: How to Name (Re-Name) Your Business Right for Success
A great way to learn about business naming is to pick an industry and assess a variety of business names for what you can learn. Business names and founders are often linked. Sometimes, a business name has roots in its geography or location.
Ice Cream Company Business Names
Who doesn't love ice cream? These are brand names we know (and some you might not) and a great way to dip into business naming and get the scoop.
Did you know that Häagen-Dazs® is a made-up name? Rose and Rubin Mattus, the founders of the ice cream icon, were Jews living in New York. In 1959, when the Mattus couple set out to create the finest ice cream product they could, they made up the name Häagen-Dazs. Why? It sounded Danish, and they wanted to honor the Danes for their resistance efforts in World War II against the Nazis. And they wanted to sell ice cream because the name they had — Senator Ice Cream products — wasn't selling.
Ben & Jerry put their real first names right on their ice cream and first store! That was 1978. That's their story in a pint.
Chaeban Ice Cream is an ice cream company and brand you've unlikely heard about or eaten. I recently met Joseph Chaeban, the founder, at a TOUGH SHIFT for Entrepreneurs speaking engagement. Here's not only made-from-scratch ice cream, but ice cream that ties to its owners and cause to help Syrian refugees.
Tillamook is an ice cream and cheese maker located in the Tillamook Valley of Oregon. It was founded as a dairy cooperative. The valley is named after the Tillamook Native American tribe from coastal Oregon. The name "Tillamook" is a Chinook language term meaning "landing" but also understood to be "people of the village" and "Land of Many Waters."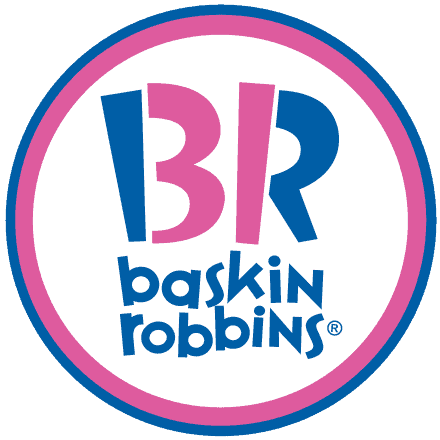 Baskin-Robbins is named after Burt and Irv, respectively. Perhaps they tried 31 different names and settled on B-R and decided their attention was better focused on 31 flavors. A smooth branding move the company made in 2006 was to mix 31 into their BR logo. Subtle — and fun!
Publix Premium Ice Cream is the store brand for Publix Grocery Stores based in Lakeland, Florida. When you've already established a trusted brand with shoppers, slapping your name on the label works, provided you're within your brand category. For example, if the Caterpillar family of brands came out with Caterpillar Ice Cream it would give my stomach butterflies of concern for its success.
Mayfield ice cream, yep, you guessed it, was founded in 1910 by T.B. Mayfield. In that era, the reputation of the farmer who provided your family with milk mattered. Putting your name on the label told your neighbors and townsfolk who produced and processed the milk they were drinking.
My wife's family were dairy farmers in North Augusta, South Carolina: Haskell's Dairies. Sadly, they never got into ice cream production — I married her anyway!