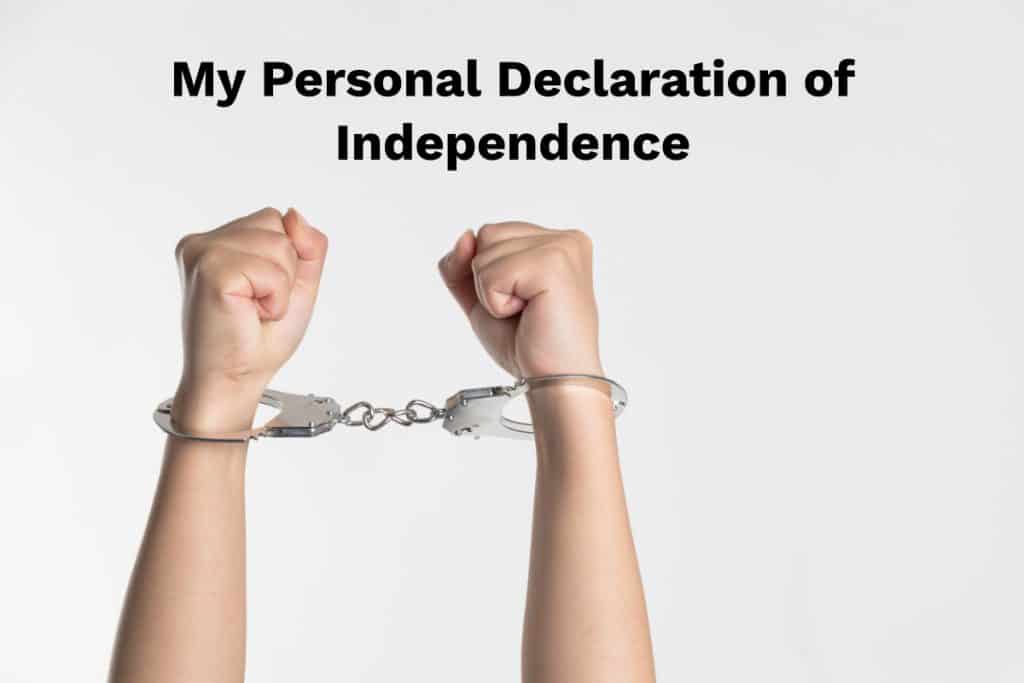 When in the Course of my Human Life it becomes necessary to dissolve my unhealthy and unproductive Patterns which have led me to this point in my life and relationships, there arrives such a time to assume among the Powers of Earth and Heaven, the separate and equal station to which the Laws of Nature and of God entitle me, an inherent Identity, Respect, and Worth apart from the opinions of others, requires that I declare and separate myself from such distraction, derailment, and destruction in order to ascend to my rightful Purpose, Promise, and Place as an On-Purpose Person in Creation.
I hold these truths to be self-evident, that all are created equal and are endowed by their Creator with certain unalienable Rights, that among these are Life, Liberty and the pursuit of Wellbeing. — That to secure these rights, personal responsibility must be seized, embraced, and owned, deriving said just Powers from the consent of the Creator, — That whenever any Form of Self-Governance becomes destructive of these ends, it is my Duty to alter or to abolish it, and to institute revitalized Personal Leadership, laying its foundation on such principles and organizing its Powers in such form as one's Purpose, Vision, Mission, and Values, as to most likely effect my Safety, Wellbeing, and Joy.
Prudence, indeed, will dictate that Patterns long established should not be changed for light and transient causes; and accordingly all experience has shown I am more disposed to tolerate and suffer, knowing that insufferable evils will not right themselves or abolish the forms to which they are accustomed. But when a long train of self-inflictions and disruptions of Purpose, pursuing invariably the same Object repeats a Pattern to reduce and subject me to Despair, it is my right, it is my duty, to throw off such Inflictions, and to provide new Guards for my future security. — Such has been my patient sufferance; and such is now the necessity which constrains me to alter my former System of Personal Leadership. The history of my present Person is a history of repeated Self-Defeat and Squander at great peril and cost to the Innate Purpose and Promise bequeathed to me by my Creator upon my Human Birth.
<insert your Off-Purpose Pattern(s) here>
I, therefore, the Person solely charged and vested to lead this profound Gift of One Life do assemble and engage with others in like-mindedness in my Personal Declaration of Independence, appealing to the Supreme Judge of the world for the ethic of my intentions, do, in the Nature, and by the Authority of the People of this On-Purpose Planet, a Commonwealth, solemnly publish and declare, That I am, and of Right ought to be a Free and Independent Person, that I am Absolved from all Allegiance to the Distractions, Derailments, and Destructions of my Past and that I sever all connections from them and their grip on me. They are to be totally dissolved; and that I am to be a Free and Independent Person, with my full On-Purpose Powers and Promise to defeat my nagging Fears, embrace true Peace, contract healthy Alliances, establish meaningful Commerce, and to do all other Acts and Things which an Independent Person may of right do–And for the support of this Personal Declaration of Independence, with a firm reliance on the protection of Divine Providence, I, as an On-Purpose Person In-Creation and a member of this commonwealth with On-Purpose Persons do mutually pledge to myself and to each other my Life, my Calling, and my sacred Honor.
[Use the comments section to sign your name if you choose to subscribe to this document.]