In the title, "Daring" is in quotes because we entrepreneurs may be risk-takers but we're not gamblers. The beauty and artistry of launching a business is that a person can start with nothing more than an idea and bring it to life to enrich peoples' lives. Daring, however, is best left for daredevils not founders.
Entrepreneurs typically operate in one of the following seven stages. Knowing this prepares you for your journey.
Contemplating: What will it take to quit my job and start a business in my search of independence, opportunity, and wealth?
Enraptured: In the "hands on" start-up of organizing the business — the honeymoon stage.
Captured: All time, money, attention, and energy are imprisoned by this relentlessly needy foundling. 
Emerging: The founder of this thriving business says, "Why didn't I start this years before?"
Expanding: Scaling a team, culture, and brand. 
Exiting: Who will replace me as the leader?
Exited: Moving on to what's next.
Navigating from stage 1 through to stage 7 involves integrating an increasingly complex variety of disciplines. Each stage opens to frontier territory with a wondrous confounding set of challenges and learning experiences. Some of these roadblocks will bog down the emerging business leader for days to decades. The School of Hard Knocks carries a high cost of tuition. There is a better way!
May I serve you? I am a lifelong student of business and leadership. I began as a nine-year-old entrepreneur selling candy on the school bus. Business degrees plus a series of failures and successes decades later, authoring bestselling books, and advising top decision makers in all seven stages has honed my talent to cut to the root cause. It's a jagged path with ups and downs but I can help you flow more fluidly from stage to stage.
Don't be daring. Work smart. Set your company and team up for success. Recognize financial profit is a net result and not your reason for being in business. Build from your personal 2-word purpose toward the vision in your mind's eye. Organize, delegate, and serve, and you will likely realize what you set out to achieve and then some.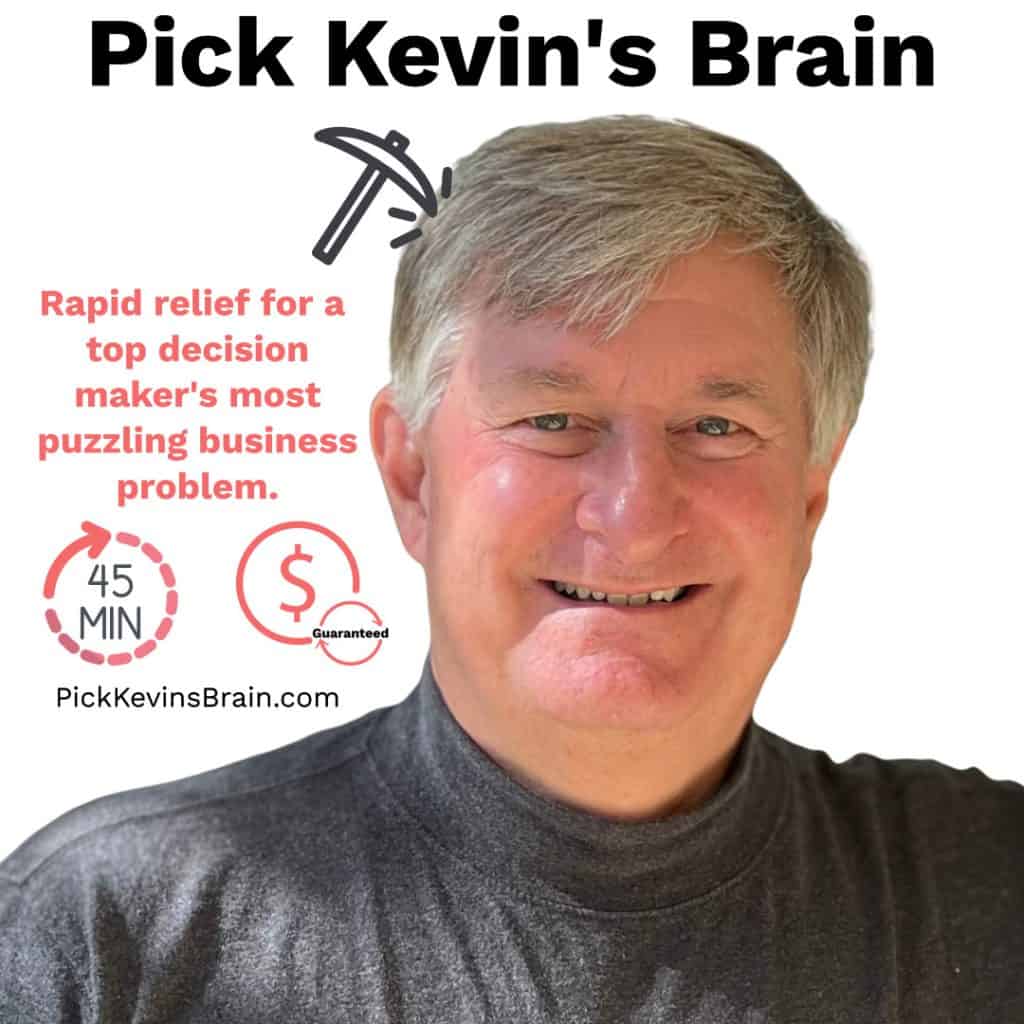 Be On-Purpose!
Kevin
PS: Got a Puzzling Problem?
Book me for a prepaid 45-minute business growth session. Satisfaction is guaranteed or your money is returned. Learn more at  www.PickKevinsBrain.com