October is the traditional time when businesses begin the budgeting process for the coming year. Almost by definition, budgeting is erroneously limited to what fits on an Excel spreadsheet. Managers are asked to pull together their financial needs for people and projects. In turn, they look at last year's budget and decide what to defend, what to concede, and what to request in the coming budget.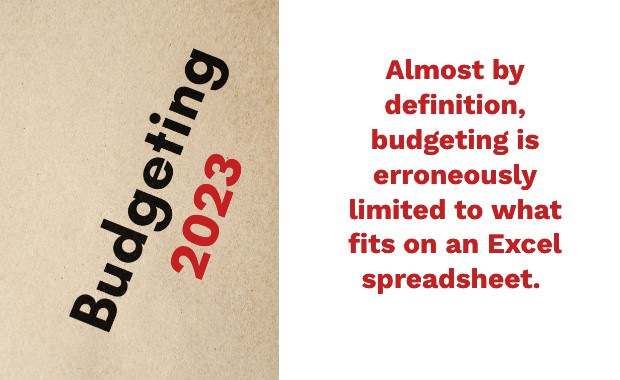 What is intended to be a strategic process gets dumbed down to a negotiation of numbers to achieve a certain return on investment or profit. Overlooked are the organizational Purpose, Vision, Missions, and Values (PVMV) of the Organization. Before you commit your entire 2023, is it time for a PVMV check-up?
Purpose, once articulated in 2 words, remains the same. Values are slow changing, whereas company Vision and Missions are fluid. Here's where the Chief Leadership Officer, leaders, and team collaborate to clarify the company direction (Vision) and core activities (Missions) within the Purpose and Values. Clarification leads to communication to create alignment and constancy of PVMV in the strategic business-planning process. The budget support this process rather than driving it.
"Doing More of What You Do Best More Profitably" is the subtitle to The On-Purpose Business Person. Place this refrain top of mind for your 2023 planning horizon. "Doing Best" is directly connected to your company Purpose and its expression in Vision and Missions as governed by Values. "Doing More of What" relates to your Missions — this is your day-to-day activity and your marketing. "More Profitably" translates to operational efficiencies, financial profit, and the value proposition or difference-making your company contributes to the common good of shareholders, team members, vendors, and society.
Leaders look forward. Managers look backward. Avoid the corrupting "Numbers Game" of the typical budget process. In placing your priority on your Purpose, not only do you improve the probability of a solid ROI, but you'll also create a more meaningful and wholesome workplace that attracts the needed talent to grow and sustain the business and team members.