Leaders tend to have catch phrases that direct their behavior and decisions. But what if these guiding "principles" are more style than substance when it comes to truly leading one's life?
For example, "Never let them see you sweat!"
That's the advice given to many a rising leader. But is it valid, or is this just the mythology of being a "strong" leader? Then again, does a truly strong leader have anything to hide?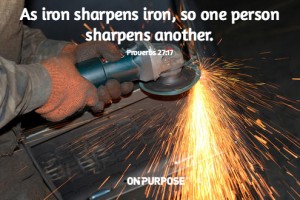 The pride of not letting others see you sweat risks closing you off to having a mentor and becoming boorishly self-referenced instead of formed and informed by the diverse views of others.
Proverbs says, "Iron sharpens iron, so one person sharpens another." Sometimes the sparks flying is exactly what's needed.
Actor Jack Nicholson starred in the movie A Few Good Men as Col. Nathan R. Jessep. In the movie he utters the famous line, "You can't handle the truth!" in a display of arrogance stemming from a fear of exposure.
"Be an open book," is the advice many would instill in others.
Is there such a thing as too much information?
Do we expect our leaders to exhibit a measure of prudent transparency?
Where is the line of privacy?
Don't we need to practice discretion and judgment?
In controversial situations, the easy way is to posture or parse a reply that caters to the audience to please the other person. To be authentic, however, may mean that you'll pay a small price now for your candor, but down the road you'll not have to pay the higher price from a lack of sincerity.
Scratch below the surface of your style to discover the bedrock of your guiding principles.
Then you can stand on firm ground to speak and act in a manner that is true to how you are and what you believe … and let the chips fall where they may.
To be an authentic leader requires us to know what is truly important to us. Invest in yourself to learn who you are and leading will more naturally follow.