Be honest with yourself … do you know how to make a life plan?
Do you even have a plan?
Is it a written life plan?
My experience with clients and readers of The On-Purpose Person tells me very few people have any sort of a plan in place for their lives, especially a written plan. Sure, we have ideas and dreams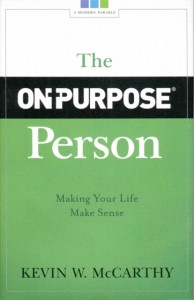 that we ponder now and then, but to take it to the step of writing out a plan is very rare.
The process in The On-Purpose Person is a format and guide for creating a life plan that is very meaningful and gives you a strategic advantage in life.
Imagine a contractor attempting to build a house without blueprints. It makes no sense, yet many of us are building lives without the benefit of a plan.
Do you want a life plan?
Chances are you don't know how to structure your life and process the information, so you haven't created one. Here's where one of our On-Purpose Personal Leadership Coaches might serve you well.
I have access to the all-time, world's best planner. Drop me a line, briefly share your interest and the help you want. Perhaps you'll want to meet him?
Be On-Purpose!
Kevin
The On-Purpose Person and Making Life Plans:
"Without a doubt this is the best guide I have seen for creating a meaningful life and plan."
– Dr. Malcolm E. Hawley, DDS
"The On-Purpose Person is a valuable addition to an important and growing literature on effective time management and leadership. McCarthy brings to life and makes operational powerful ideas that will help all of us make a difference."
– John W. Rosenblum, PhD, Dean Emeritus, The Darden School
"The best tool I've seen for turning good intentions into positive actions. Highly recommended for anybody, but especially for those who need a way to organize unstructured time—like clergy!"
– The Right Reverend William Frey,
Dean, Trinity Episcopal School for Ministry, retired
"What's happened to the American Dream? Despite working harder, too many people lack fulfillment, happiness, and emotional security. The On-Purpose Person gets us back on track, organized around what really matters, and equipped with a purpose and plan for thriving in a rapidly changing world."
– Dr. Wayne Scott Andersen, D.O.
Author, Dr. A's The Habits of Health
"Reading The On-Purpose Person changed my life. The concepts and practical applications detailed in this wonderfully engaging book empowered me to re-focus my personal and professional goals to achieve true inner peace."
– Gordie Allen
CEO & Professional Sales Trainer, Leads-Plus, Inc.