"How can I be a better leader?" is a question I am regularly asked by clients and audience members at speaking engagements. Leadership development is 1 of 3 competencies to master to increase one's contribution and call to service.
Let's explore the central, inescapable reality of how to be a better leader—The On-Purpose® Principle.
By understanding and applying this concept to your life and work, you'll see that authentic leadership comes naturally rather than being a forced effort.
To become a leader, become a better you by beginning with knowing your purpose in life—your inherent worth and reason for being that live in your heart. Your purpose is an amazing gift too often buried under layers of doubt, pride, wounds, and challenges. Rather than seeing these layers as prevention from getting you to know who you really are, what if they are protection and preparation for just this time in your life to really understand the power of your two-word purpose, and being on-purpose?
Purpose is the bedrock of all leadership development.
Once you know your purpose, it will not be denied in spite of obstacles and setbacks. It works toward expression and contribution. The only person, circumstance, or condition that can stifle it is you.
Take 100% responsibility for being on-purpose (Think Inc!). Even in the worst of circumstances, you won't get caught up in the blame game which distracts and chokes the pathway to being on-purpose.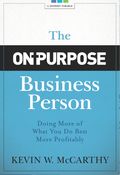 Let's take to the whiteboard for insights and practical application of the On-Purpose® Principle so you can create high alignment of your personal purpose with your organizational purpose. That's how you can create peak or TOP performance as a leader of your life and work.
Keep the On-Purpose® Principle in mind, and you'll discover that your matters in business, psychology, or management just got a whole lot easier and cheaper to understand and lead.
The bedrock of leadership is all about the purpose of the person being aligned with the purpose of the organization.
Be On-Purpose!
Kevin
P.S. Want to read and learn more about The On-Purpose® Principle? Order The On-Purpose Business Person by clicking here or buying it from amazon.com.