This On-Purpose Minute originally aired on January 5, 2010, at the turn of a new decade. Today in October 2015, let's do a follow-up check-up on how life is looking (up?) for you. The lessons from this OP Minute still remain — except 2020 is less than 5 years away!
Short-term vision or thinking often distracts us from focusing on what really matters most to us. What would it be worth to you to clarify what is most meaningful to you? Would you invest 60 minutes of your life today to set a more clear course for the next 5 to 10 years? It seems so minor an investment for so much to gain, yet we're often "too busy" with the non-important to define what truly matters.
Give yourself a strategic advantage by knowing what matters most. Download The Discovery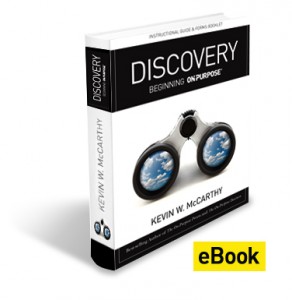 Guide, my free tool designed to help create want lists and tournaments. It is superior to typical goal setting tools because it helps you gain laser focus. Improve your time management and your personal life improves. It isn't too late to plan today for your 2020.
---
Original post in 2010!
A new year brings a rebirth of possibilities. What then does a new decade bring? Let's look ahead to 2020 to plan what can be. Too often I find myself looking a day, a week, or even a few months, but too rarely ten years ahead. The calendar change to 2010 offers a natural opportunity to peer into the future and plan what could be.
---
Looking for some guidance? At On-Purpose Partners we have coaches trained in the On-Purpose® Process who can help you. Whether you need an hour or a defined program to help you, know that we're here. Explore here.