SeaWorld Orlando has Discovery Cove where you can swim with the dolphins and the Penguin Encounter where you can watch penguins frolic and play in a frozen environment.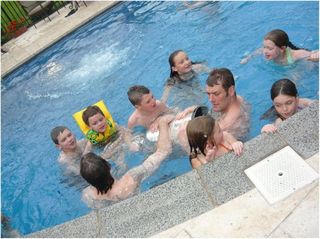 Move over Orlando, Pittsburgh has bested SeaWorld with Super Mario's Mansion where the whole family can swim with the Penguins AND the Stanley Cup. 
I grew up in the Pittsburgh, PA area and we Pittsburghers do love our sports.   My brother, Bob, who lives there, keeps me up to date with lots of happenings around town.   Sports are something fun we've shared as kids, especially since we were a family of athletes.  
Mario Lemieux is the owner of the Pittsburgh Penguins.  The team's former star and hockey legend naturally threw a party at his home for the championship team.   My brother has some friends who attended the team party and forwarded these photos.  (Note that the kid in the yellow flotation device is not wearing Red Wings.)
Don't be too alarmed by the scene.   The Stanley Cup is traditionally hoisted and jolted by the winning team.  It is revered enough to fight for; real enough to be enjoyed.  The Stanley Cup adds yet another page to its history of storied adventures.
Let's hope that Cup can swim!
Be On-Purpose!
Kevin
Mario's Mansion outside of Pittsburgh: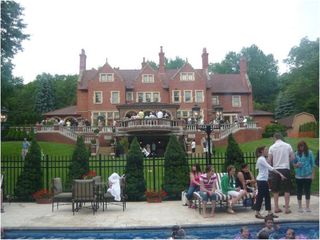 The Stanley Cup on display before it takes a dip in the pool.