Is it time for your On-Purpose leadership experience?
Join Kevin W. McCarthy as he facilitates On-Purpose Peace, a 7-week live video conference small group using On-Purpose Peace. Learn more at the On-Purpose Peace website.
---
Meet Hamlet, our family's standard poodle who died back in October of 2015. Hamlet was scary smart and we kept expecting him to talk. Looking at me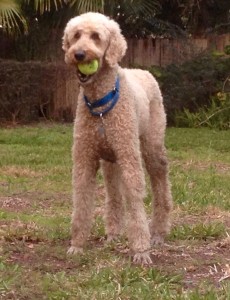 with his big brownish/gold eyes it was as if he was asking for permission to speak. I'd say to him, "Hamlet, use your words!"—the same statement I would make to our kids in their terrible twos to thwart a temper tantrum.
Hamlet, of course, didn't talk. Imagine what his and our lives would be like if he could have put it into words. Thank you very much, Dr. Dolittle.

Words are powerful. The most powerful are personal, intimate, informative, revealing, insightful, meaningful, and offer definition and clarity. God created the world by speaking it into being with words (see below). It doesn't get much more powerful than that!

When reading the writings of others, I so appreciate a turn of phrase that captures exactly what I'm feeling but I couldn't express in words as succinctly. There's something refreshing to the soul when a song, poem, or book articulates our spirit and reveals a rare glimpse at ourselves, yet through the eyes and words of another.
Consider the cost of ill-suited words. Words are the sword of the tongue and spirit. This gives rise to wise counsel such as, "Think before you speak." Words can be hurtful and mean.
Medically speaking, an undiagnosed illness is the absence of the right word. A disease can't be treated properly or as effectively until it can be identified. Symptoms may be managed, but the cure remains a mystery. To put it into words makes a big difference.

Consider the gains to be had using the right words. The sense of understanding and completion is richly satisfying to the soul. Right words enable right action, productivity, and accomplishment.

The Meaning of Life and The Meaning of Words Are One
Of everything in the universe, the ultimate question of life can only be explained in words. The meaning of life is understood in words because God used words to create the world. The Gospel of John tells us that, "In the beginning was the Word, and the Word was with God, and the Word was God. He was with God in the beginning. Through him all things were made; without him nothing was made that has been made. In him was life, and that life was the light of all mankind. The light shines in the darkness, and the darkness has not overcome it."
What Are The Words of Your Life?
Writing your personal purpose statement may seem like it is the act of putting your life into words. In fact, it isn't that at all. Writing a purpose statement is the audacious attempt to articulate and then harness the supernatural mystery and link between the spiritual and physical realms. 
Your purpose, like Jesus, is fully spiritual and fully physical. When the revelation of your purpose comes to light, your sense of your self, your life, your experiences, and more come into an extraordinary focus and context. It is the power of words made personal and authentic. 
A true highlight of On-Purpose Peace is writing a 2-word personal purpose statement. This is the beginning of being on-purpose. Imagine what your life would be like if you, unlike Hamlet, could use your words that are written on your heart.