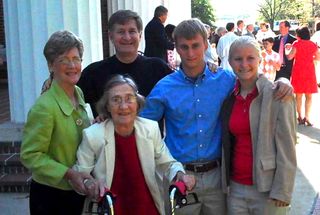 Our family attended church at St. Paul's Episcopal Church in Augusta, GA – the church where Judith and I married 25 years ago.  Accompanying us was Judith's 93-year-old mother, aka Grannie.  It was  a special event for us all to be together. 
Afterward Anne and I headed to the Masters to watch those amazing golfers.   We sat in the stand at hole 8 for quite a while.  We watched Trevor Immelman make a long birdie putt and Tiger Woods sink an eagle putt.  The weather was wonderful.  Tonight my nose is sunburned red! 
We're staying with the Parkers who have graciously opened their house to the McCarthy invasion once again.  It is nice to have in-laws who are so welcoming.  So thanks John and Mary Bright!
I hope your Easter was fun, family filled, and joyful.  Easter is the most holy of days because of the miracle of Jesus' resurrection.  Regardless of your present circumstances, joy can be had in the hope of Easter.
Be On-Purpose!
Kevin