In a conversation with a very financially successful woman she confessed to me "I am not a leader." Her sincere, albeit inaccurate, self-assessment stunned me. Not only did I respect her as a leader, I knew a number of others who shared my opinion of her. 
It didn't matter what I or others thought of her. She didn't see herself as a leader, so she wasn't. But I did have a long conversation with her to share some of what is in this On-Purpose Minute video and text.
Just as I believe we're on-purpose persons in creation, I believe we're all leaders in creation, too.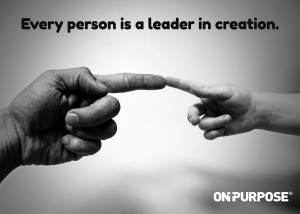 Here's why: We are all leaders at some place, in some topic, at some time, or with some people. Clearly, there are those of us who are more naturally front and center in visible positions of leadership. 
The conversation with the woman got me thinking about those who don't see themselves as leaders. With this On-Purpose Minute, my hope is I can awaken you to your leadership in small areas so you can leverage these as building blocks to grow your personal leadership.
Here are Five Tough Shifts in your thinking to become a leader:
Recognize where you presently lead

Relabel yourself as a leader

Know yourself better

Practice your leadership skills by leading your life better


Realize you won't please everyone
Feel free to add your suggestions in the comment section below.
This is a classic On-Purpose Minute. The On-Purpose Leader Experience is NOT being offered this May. Below is a link to a preview of one from May 2012. 
 Here is a link to a preview of The On-Purpose Leader Experience.