Ladies and Gentlemen, your manners distinguish you for better or for worse.
Good manners reflect a degree of one's upbringing, experience, and socioeconomic standing. Good manners, like good grammar in speech, are subtle cultural refinements.
Above all, good manners are voluntary, a choice we make as to how we choose to be and to present ourselves. Ideally, manners come out of a sincere respect and politeness for others as opposed to simply being put on and off to impress others.
A kind soul without proper manners but a sincere graciousness and goodness is far more appealing to me than a formal phony with all the right manners.
Right manners do not always translate into good manners.
Lately, I've been pondering both my language and carriage with a measure of concern. Our present culture is so accustomed to using and hearing profanity that we've lost our sense of what is truly profane. Gone with the wind are the days when Rhett Butler saying to Scarlett O'Hara, "Frankly, my dear, I don't give a damn," was a scandalous controversy for use of profanity.
Merriam-Webster's online dictionary defines profane as to treat (something sacred) with abuse, irreverence, or contempt. Ouch! I don't know about you but that isn't the kind of person I want to be known as being.
Mores change over time and generations.
I get that. Today, however, the liberal and insensitive use of profanity—I mean really profane and derisive language directed at people—is a dangerous objectification of one another. This speaks to a deeper pain or rift in society.
Admittedly, I'm no Puritan as I'm apt to drop cuss words from time to time. When I'm real with myself, I don't like it when I do it. Cussing is typically lazy, dumbed-down language coming from the lesser me rather than the greater me. It tears me down and, worse, brings others with me—not what we leaders want to do.
Yep, both my manner and manners matter.
I'm working to be the best Kevin I can be. Will you join me in cleaning up your language? When you do, you're also becoming a better leader of your life by becoming a lady or a gentleman.
As I dream about The On-Purpose Planet, where every person is on-purpose, I imagine a more gracious and kinder world. Being On-Purpose is about looking into one's own heart as well as the hearts of others. As we search our own hearts and find ourselves wanting, it is only fair that offering such understanding and acceptance of others is not for the outer person but the inner soul. Right manners can be learned.
Harshness of heart, however, speaks to a deeper problem.
Jesus told the crowd that would stone the woman, "Let any one of you who is without sin be the first to throw a stone at her." That sticks with me. I am too quick to pick up stones. Fortunately, as I age, I'm learning to drop them faster than ever.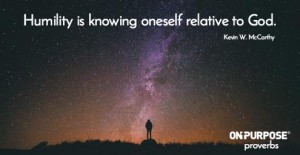 The mark of a true leader is a courageously generous spirit who is capable of honoring the worth and dignity of paupers, kings, and everyone in between. Privilege is a gift containing humility that must be opened and embraced. It also helps to send a thank you to those who provided the opportunity.
Be On-Purpose!
Kevin
---
In this classic (April, 20 2010) On-Purpose Minute, you'll catch me at the Ritz-Carlton on Grand Cayman Island. After the video watch the quick 270-degree sweep of this beautiful resort. Special thanks to Daniel, the concierge, who suggested where to shoot the video and escorted me there. Truly a gentleman!
On-Purpose Proverb: Humility is knowing oneself relative to God.