Leadership is a broad term that, like beauty, is often described as "being in the eye of the beholder." Ask ten people to define leadership and you'll likely get ten facets of this brilliant diamond. Most can agree that leadership involves other people but that's an incomplete understanding.
Whereas leadership involves working with others, personal leadership is about working with yourself. You can't delegate this responsibility nor should you miss this opportunity to better your body, mind, and spirit. Here is the only place in the world where you possess a significant measure of control through choice. The power of choosing can be exercised and strengthened or avoided and diminished.  

Ask yourself the following personal leadership questions:
What am I feeding my mind, my body, my heart, and my spirit to be a better person?

Am I reading books, articles, blog posts, and other content that inspire me?

Who in my life uplifts and calls upon me to rise above my problems?

Am I investing my time in healthy exercise, eating, and behaviors?

Do I have a plan to learn something new in the next 30 days … or the next year?

What is one thing I can start doing today to make my life better?
Self-care is not selfish; it is essential. The more you develop as a person, the more others are willing to follow your lead. The better you know yourself, the stronger your leadership potential will increase. In other words, as you win in your inner life, then your outer life is likely to thrive.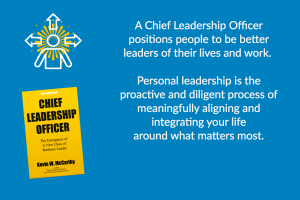 In this On-Purpose Minute, personal leadership is defined as "The proactive process of meaningfully aligning and integrating your life around what matters most." As this On-Purpose Minute briefly explains, there's more here than meets the eye. You hold the key to the ignition to start the process. Be thoughtful and intentional about exploring possibilities to think about how best to align and integrate your decisions to produce alignment and integration about what truly counts.

Here's where a personal 2-word purpose statement pays dividends. When you know your purpose, you have a personal, universally applicable point of reference for alignment and integration. Life becomes simpler because you're aware of who you are, and you have a growing appreciation for what's right for you. 
The sooner you decide to be the leader of your life, the better off we all are. That, by the way, is true prosperity—everyone profits.

Personal Leadership involves the person you see in the mirror. Most of us will readily admit we have different "voices" within us competing for our "best" interest. No one escapes temptation. The following expressions offer insightful evidence of our inner demons of discontent and the desire for a more integrated life:
"I have my own demons to battle," a la Flip Wilson's famous line, "The Devil made me do it."

"I must not be in my right mind."

"I'm torn. My head says one thing, my heart another."

"I need some time to get my head together."

"I can't seem to get my act together."

"Why am I so easily distracted?"
Get started leading your life right now! Not tomorrow. Not next week. Right now!
Not sure where to start? Write down what you want. The Discovery Guide can help you sort it out simply, quickly, and meaningfully. Download the free preview with instructions and the forms you need to take the next step toward being an on-purpose person in creation, being the Chief Leadership Officer of your life!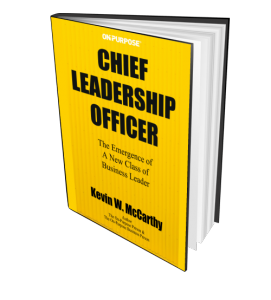 Pre-Order Chief Leadership Officer today!
Download the Opening Chapters here.