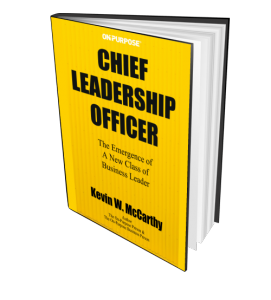 Chief Leadership Officer promises to be a most positive organizational development and business leadership disruptor. This message and method of leadership anticipates where business is headed and where you want to be regardless of your position in the company.  Below, dig into the Prologue and Chapter 1.
---
Prologue
Step into the future. You're running or maybe starting a business. Aside from the normal challenges and opportunities of business ownership and development, you're as unsettled as you are excited.
Aware of your situation, a business colleague introduces you to the first-known Chief Leadership Officer. A conversation ensues. Questions are asked and answered. A story centuries in the making is told. A relationship is built. An informed decision needs to be made:
Will you be a Chief Leadership Officer?
---
Chapter 1
Why Chief Leadership Officer?
The task of the executive is not to change human beings. Rather, as the Bible tells us in the parable of talents, the task is to multiply the performance capacity of the whole by putting to use whatever strength, whatever health, whatever aspiration there is in individuals.
Peter F. Drucker
The Effective Executive
1967
"Being a Chief Executive Officer is wrong for my business … and wrong for me!"
I remember the exact moment I first put voice to this proclamation. It was at the 100th birthday celebration of Pops, my great-grandfather. At the time I was twenty-five. I couldn't tell you why being a CEO felt antiquated and dysfunctional for my business and me. It just did.
There was something beyond my youth leaving a bad taste in my mouth for saying I was an "executive," as in Chief Executive Officer. Disdain had slowly welled inside me for what the position and my employees were requiring, dare I say, expecting of me. My CEO trajectory was rich with opportunity but seemingly marred with compromise to what I most treasured in my life and person. At some level, it creeped me out to realize who I was becoming as the CEO.
Today, at thirty-five, I can and will tell you why I am a Chief Leadership Officer, and how I got to this title. It took two years of investigation to psych out this more meaningful and satisfying way of being in life and in business. Now I've lived it for eight years. The precepts I'll share are just that—guidelines, not directives or a formula. You'll need to decide what's right for you.
Each and every business is different. Yet, there are commonalities and markers indicative of an organization led by a CLO, just as there are for CEO-led businesses.
I'm often asked, "What's the difference between a CEO and a CLO?"
Let's be clear, there's nothing inherently wrong or evil with a CEO-run business. In fact, many CEO-run businesses exhibit characteristics of CEO-led companies. This traditional system and style of management has been around for over a century. That's both its advantage and its disadvantage. It was tried and true in its day, but, for a variety of reasons, the sun is setting on that day.
The fundamental difference is in orientation. CEOs manage and "execute" a company by driving its people to make a profit for shareholders. CLOs call upon people to be leaders and profit makers—serving the greater good of stakeholders. As Robert Frost might say, "And that has made all the difference."
A Chief Leadership Officer commits to meaningfully and profitably integrating the following two broad missions:
Position people to be leaders in their lives and work
Position the business to lead in its chosen field
A CLO has a decidedly different posture from a CEO. A CLO has the head for profit of a business, the heart for service of a not-for-profit organization, the fortitude for commitment of the military, and the moral imperative of the church. The charge for "everyone profits" calls for mastery of management and leadership to integrate and produce such an abundantly positive outcome.
My story and the CLO precepts are meant to open your eyes, literally and figuratively, to an alternative way of leading an organization. So regardless of whether you currently run a business or aspire to lead one, you'll have ample grist for the mental mill to grind as you decide if you want to be a person who runs or leads.
I never set out to be a business iconoclast. I knew there had to be a healthier, more whole way than operating as a CEO. I just wanted to benefit others and care for myself by doing right and by doing good while producing a fair financial profit.
In retrospect, I chose wisely. In the early days, I was a forerunner of a CLO. Now I am one of many CLOs. Individually and collectively, we're becoming known as men and women who are a consistent force for good.
Perhaps you'll want to join us?
How did this CLO approach come about? Remarkably, it was Pops, my then 100-year-old great-grandfather who guided me. During the last two years of his life he cajoled and coached me to blaze a trail into the frontier of leadership.