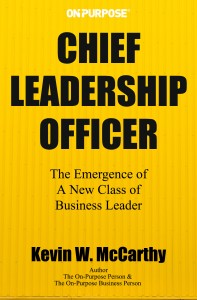 In 1994, I sat in the corporate headquarters lobby of Tupperware in Kissimmee, FL waiting to see my appointment. On the table was a pamphlet that touched on a bit of the history of Tupperware.
Brownie Wise was the woman who took Earl Tupper's products from the retail hardware store shelves (where it wasn't selling) to the direct sales party plan model of business. She built an empire that today spans over 100 countries and over $2 billion in annual income.
At that point The On-Purpose Person was relatively newly released from 1992. The On-Purpose Business Person was in development stages. I had created The On-Purpose Principle years before either book was written. I used this guiding principle to help my client companies create healthy, sustainable growth that allowed them to do right by the business and people.

Within the pamphlet the following quote jumped off the page! Brownie Wise said, "If you want to build the business, build the people." What a brilliantly simple way of keeping the priorities straight for leading a business. Brownie's words breathed readily understood life into The On-Purpose Principle.
Her quote opens Chapter 8 of The On-Purpose Business Person. Clients hear me say it often. We're all so susceptible to getting lost in the operational and financial details of running a business that we forget that without people to serve and to be served the business has no sustainable reason for existing.
As prior blogs posts have stated, the Chief Leadership Officer is charged with two primary responsibilities:
These simple, yet powerful two sides of the same coin are inextricably essential to the success of the enterprise. A Chief Leadership Officer can not achieve one without the other for the organization to be a true success. A business can be a leader in its chosen field, but if it burns and churns people, it will not sustain its leadership position. On the other hand, a business does need a myriad of disciplines and activities to integrate strategically and structurally into a productive whole.
This duality of positioning is a bit like the age old question, "Which came first? The chicken or the egg?" Except in their instance we know beyond a doubt that the people come first.
CLOs welcome this duality of leadership because they understand that one without the other inevitably creates a false positive success. Peter Drucker said, "The executive who works at making strengths productive–his own as well as those of others–works at making organizational performance compatible with personal achievement."
While CLO may seem similar to CEO, they are only as similar as your current smartphone is to the flip phone you had a decade ago. It has some similar features and functions but it is so much more — a new category of leadership available to all.