You're sitting at the keyboard staring yet again at your Facebook, Twitter, or LinkedIn login. Yep, you set up your profiles on various social media sites, but as a business person you're wondering:
Why am I doing this social media effort?
Does Facebook for business make sense?
How do I get the most followers on Twitter?
Are my LinkedIn connections too many or not enough?
What LinkedIn groups should I join?
Who wants to be friends with me?
What in the world am I doing on all these social networking sites?
In a prior On-Purpose Business Minute, I posed the question: What's the Deal with Social Media? You were encouraged to make sure the purpose of your organization, business design, business strategy, and marketing strategies were in place and aligned. Now, let's explore a simple, yet powerful traditional step you can make to bridge the relationship of your marketing and social media channels.
Develop your "Social Media Currency," a term I'm coining (pun) to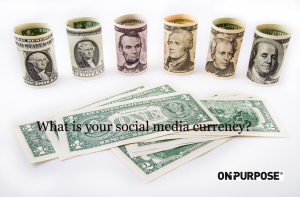 help my fellow business persons who are awkwardly pounding away with tweets, posts, discussions, chats, and IMs. A little direction can go a long way as you're learning your way in the world of social networking.
Currency is a store of value; therefore, social media currency is your virtual store of value associated with your online (and real) personality, brand, and identity.
The more I learn about social media and social networks, the more I realize how little has changed in the world of business strategically. Sure, these online mediums shift the means of communication, but the very essence of it still rests on the fundamentals of solid marketing and execution.
Your social media currency is a place or channel-specific extension of your business brand personality.
If I say Apple Inc, you're probably thinking about your iPod, Mac,

or iPhone and attribute the brand qualities like "cool design, youthful, creative, and easy to use." If I say IBM, your descriptors might be "corporate, smart, safe, mature, and powerful." Or invest 18 minutes to watch the amazing brand development presentation by Coca-Cola found in this On-Purpose Business Minute to see a great example.
In short, your brand personality permeates your culture, customer service, hiring, product development, and so forth as an essential intangible currency of the relationship that builds consistency and trust. Veer too far from it and your brand value proposition is eroded as your customers are confused. Confusion and doubt damage your value.
How to Coin Your Social Media Currency
You're probably not the CEO of a major corporation, but a SOHO, small-business person, salesperson, agent, or such. This is all the more reason why being smart online can pay for you and your business. You don't have the big budget, ad agency, or marketing department defining core marketing strategies.
Early in my foray into social media, Mark Carbone, a business associate, encouraged me to articulate what he calls the "Five Pillars" for my online presence. Immediately, it made sense to me. After asking clients to give me five words to describe me, here is what I got back in rank order as my brand personality: Insightful, Authentic, Confident, Entrepreneurial, Spiritual.
My business partner, Mary Tomlinson, who used to head up Walt Disney World's internal ad agency, and I often help our business advisory clients develop their brand personality. Same basic concept, just a corporate version.
Thanks to Mark and Mary's training, my social media currency is defined with five words that describe me.
So, What is your Brand Personality?
Give it some thought for you. What five words best describe your brand personality? Engage the help of business peers, associates, clients, employees, etc., by asking them to give you a list of the five words that they think collectively best describe you.
When you're finished with your words, use the comment section to post them. Then, you can tell me what five words best describe me. Thanks!
Now, go out and wisely invest your social media currency.
Be On-Purpose!
Kevin