Saturday, June 10, 2023, Judith and I attended the Consecration and Installation of the Right Reverend Justin Holcomb as the Episcopal Bishop of Central Florida. It was a glorious occasion filled with pomp and circumstance, worship music, a bench of bishops, a pontification of priests and deacons, and a congregation of witnesses and worshippers for communion.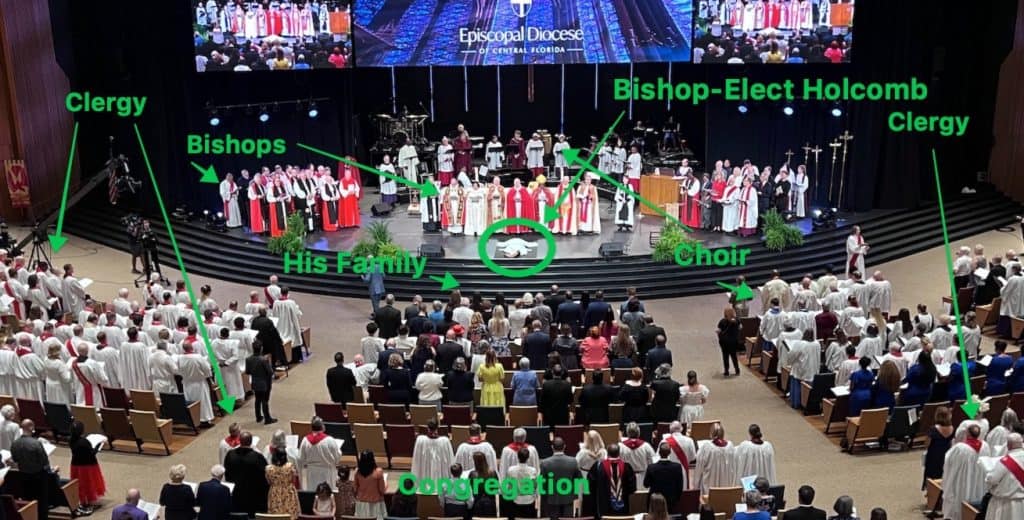 Pictured above is the profound moment when Bishop-Elect Holcomb is in prostration (green circle) before the Presiding Bishops and bench of Bishops. Soon they will examine and lay hands of Apostolic succession upon him. This posture of submission represents a reverent obedience and total surrender to Christ. It is a breathtaking experience to witness.
This moment (to me) symbolizing the two persisting presences tugging and tearing on all our hearts: God and the World. Ironically, all those surrounding the Bishop-Elect individually and organizationally are the most likely candidates to distract him from this prime directive.
The prostration message is simple: God first. This isn't just for Bishop Holcomb. This visual depiction of The Greatest Commandment is for all of us. First God, then God and Self, and finally Others is the key to a whole life within the chaotic and confusing swirl of competing interests.
We are called to be conduits of service. Yet, as so many constituents draw down on us, the risk of putting service ahead of God is the path to being burned out and bummed out. How, then, do we remain committed and connected to the source, while not being drained by the calling of one's work?
This wondrous notion and potential for an aligned, integrated, and fluid series of vigorous relationships is animated by a third persisting presence. Your God-gifted 2-word purpose energizes and makes the desirable outpouring of one's Body, Mind, and Spirit personal, actionable, and alive, but most of all protected. This believed bond discerns what's off- or on-purpose and reveals what's wise to do, delete, or delegate.
Leaders, you don't have to be a Bishop to commit to God first.
Be On-Purpose!
Kevin
PS: Here's my bride and me with Bishop Holcomb