What is trust?
TRUST = Truth, Respect, Understanding, Sincerity, Time
Can I TRUST you? is a question living at the heart of every relationship.
Trust is a precious and valuable state of being.
Trust in business and in sales is an essential and valuable character quality that pays dividends.
Squander your trust and you ruin your business. Build trust and you grow your business.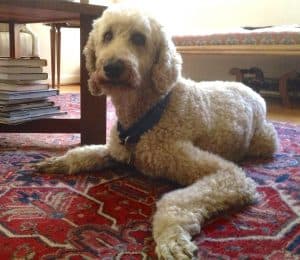 By way of a negative example, meet our dog, Hamlet (shown a few years ago before he died). Here was a great family dog—but a shining example of the cost of lost trust. His intelligence regularly surprised us. His one great flaw, however, was being off leash.
Within the home and fenced backyard, Hamlet would come when called (about half the time). Off the leash, however, at the dog park or when he escaped, Hamlet was a standard poodle gone wild. He would wander for hours, generally, circling the house in large walkabouts through the neighborhood.
Disobedience has a price.
He rarely got to go to the dog park to play with other dogs. When it was time to leave, he wouldn't. He was too fast to catch and too smart to be caught. He would seemingly taunt us to catch him by coming within feet of our reach only to dash away. As a result of this distrust, Hamlet lost out on all sorts of privileges and benefits that a more trustworthy pooch would earn.
Hopefully, today's On-Purpose Business Minute gives you "paws" for thought on what lack of trust could be costing you in terms of sales, customer relationships, employee turnover, and other challenges potentially undermining your business profits.
Are your relationships, options, and opportunities limited because of trust issues?
———
I'm a member of Trust Across America, a membership-based organization making the strong case for trust and integrity as business imperatives. Check out the website and join me.