How many times do you say, "I'm off to work"?
Does saying that conjure up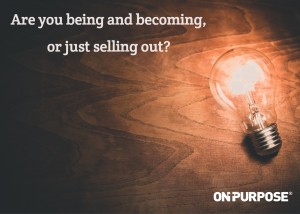 emotions of joy and excitement, or do your teeth clench and does your stomach churn and turn?
Your answer to this question goes to the heart of your life, health, and well-being in your spirit.
Are you one of the fortunate people who loves their work and has skillfully integrated (not "achieved" a work–life balance) the lines between work and life?
Have you become so fully integrated that you are on-purpose in business and in life? Are you compromising or being conditioned for your next great assignment?
Are you selling your soul or sailing along on-purpose?
Lots of questions for you to ponder.
Does thinking about this sound like work to you?
Sooner or later you will either answer the questions or pay the price for not answering them.
Got a comment to make? Go for it below. Let me hear from you.
Be On-Purpose!
Kevin