TRUST: Truth, Respect, Understanding, Sincerity, Time
Can I TRUST you? is a question living at the heart of every relationship. Trust is a precious and valuable state of being in a relationship.
Trust in business and in sales is an essential and valuable character quality that pays dividends. Squander your trust and you ruin your business. Build trust and you grow your business.

By way of negative example, our late dog, Hamlet (shown a couple of years ago), was a great family dog, but a shining example of the cost of lost trust. His intelligence surprised us regularly. His one great flaw was being off leash. Within the home and fenced backyard, Hamlet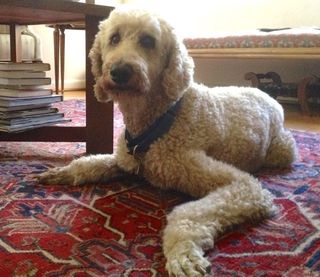 would come when called (about half the time). Off the leash, however, at the dog park or when he escaped, Hamlet was a standard poodle gone wild. He would be gone for hours. Generally, he circled the house in large walkabouts through the neighborhood. Even as he got older and could barely walk, he would still take advantage of an open door or gate to wander about.

His disobedience came with a price. He rarely got to go to the dog park to play with other dogs. When it was time to leave, he wouldn't. As a result of this distrust, Hamlet lost out on all sorts of privileges and benefits that a more trustworthy pooch would receive. 
Hopefully, today's On-Purpose Business Minute gives you "paws" for thought on what lack of trust could be costing you in terms of sales, employee turnover, and other challenges that undermine your business profits.