Note: This On-Purpose Minute first posted on Nov. 27, 2009, and remains relevant today to finding meaningful work.
This On-Purpose® Minute is geared toward helping you find meaningful work where you can be real, prosper, and make a difference regardless of your employment situation. For coaches, consultants, and solo owners — with some translation — what you learn here is also true for finding meaningful "client work."
Recently, a corporate recruiter I met shared that for every job her company posts there are 300 applicants. In the face of such competition, how does one sparkle like a diamond?
It breaks my heart when I see job seekers playing the numbers game of firing out resumes and job posting on bulletin boards for any job opening there is. While I agree that any income is better than no income, they are playing a very low percentage game that far too often produces a less than desirable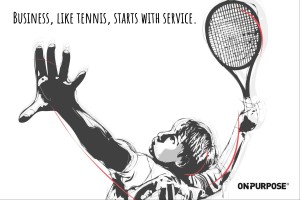 outcome for everyone involved. It is a poor investment of their time.
In this On-Purpose Minute, this "backward" approach is illustrated with the tennis balls as 3–2–1. Conforming oneself to fit the job may be an applicant's sincere and hopeful effort, but it is generally an un-strategic and unproductive activity.
Chasing a paycheck and benefits while ignoring who you are, sells everyone short—especially you. It is likely you'll too soon find yourself on the job turnover cycle unhappy, defensive, and shrinking in your role. The effect is a depreciation of who you are and a growing loss of confidence.
Instead, the 1–2–3 strategic plan builds upon the On-Purpose® Approach by beginning with your purpose (who you are and becoming) and then adds searching for the best places or opportunities for expression. Rather than a job, you're looking for a position. A position is a proper fit, a launching pad, and a meaningful place where you can make a difference.
Yes, in searching for a position, it is demanding to have to think through who you are and what truly matters. It is even more demanding to do the research on employers where you are a better fit. And just because you've found what appears to be a great fit doesn't necessarily mean you'll get hired. Admittedly, because of our investment in researching the company and position, the rejection stings all the more.
Despite all these hurdles and emotional risks, you'll gain a lot. You'll learn more about yourself and how to market and position yourself for a higher probability of success. You are more likely to make a positive impression and build a relationship that just might open the door to your next opportunity. Of course, the ultimate reward is finding a position where you are valued and expanding into your promise and possibilities. The effect is an appreciation of who you are.
If you must play this numbers game, don't do it exclusively. Know who you are and target your search to your heart's desire, your head's understanding and vision, and your skill set.
Need some help sorting it all out? Check out MyWork-ONPURPOSE.com.
Here are some tips for positioning yourself for your next best employment situation:
Know your 2-word purpose. Go to www.ONPURPOSE.me and in just a few minutes you'll know your life purpose.
To find the "job" of your life, your first job is your life. Be a personal leader of your life. Take responsibility for your attitude, appearance, and presentation. Have you written your personal purpose, vision, mission, and values? Given age appropriateness, do you really know who you are?
Think in terms of how best you can help the employer accomplish their goals. For example, figure out ways that you can help your potential employer to: make or save money, grow sales, create a better working environment, improve customer service, or innovate.
Use the Think Inc! mindset (read The On-Purpose Business Person). In other words, approach the open position as if it was a business, not a job. And you are the president of the business. For example, if you were applying to be a receptionist for a company, pretend that you are a "receptionist consultant" who comes in and looks for ways to improve the performance of the job so the company and people around you are benefited.
Add value to the relationship. If in your research, you've found a potential employer that offers acceptable pay and benefits, then take the focus off of what you can get from the job and immediately look for ways where you can make a difference on the job. Oddly, this means you're going into the process asking most of the questions instead of answering them. Uncover where you fit and can contribute.
Have your LinkedIn profile up to date and written in such a way that it is a marketing piece, not a resume. Have a friend who actually hires lots of people review it and take their candid feedback about what works and doesn't.
When you find a target employer, research them. Go online and read their strategic statements of purpose, vision, mission, and/or values. Dig into their culture. Scan the Annual Report. Understand their strategic initiatives. Find the names of people who work in areas of your interest paying particular attention to VPs and Directors. Research their industry. Understand trends, jargon, terms, and what the hot topics are. Be knowledgeable, but don't try to fake expertise or pretend you know more than you do.
Leverage your social media connections like LinkedIn to find people who work in your target company. Don't call or connect with them about needing a job. Instead, pick up the phone and say something like, "Can you offer me some insight about your company?" Listen for them to say yes or ask how. Then say, "I'm considering coming to work for your company. I want to know what kind of place it is to work for before I go any further with my position search." Have a couple of company-specific questions to ask and then listen. For example, "Your annual report says you're expanding your XYZ product lines into the ABC market. If you're free to discuss it, what are the opportunities and challenges associated with this strategic move?" Another question: "Your online career center says your company offers ample training and upward mobility; please share with me, what has been your experience?" Create a sincere relationship, not a ploy to ask for a job. In fact, don't ask for a job. Respectfully and politely ask for insight, guidance. If you make a great impression, you might have an internal champion. Close the call by asking for permission to call back again if you have more questions.
Be bold, not brazen. Once you've determined through your research that you can truly add value to the company, then go in with confidence versus your hat in your hand desperate and begging for a job. Confidence matters. In your preparation, you've figured out how you can make a difference in their area of interest. Therefore, ask hard questions to confirm or adjust your understanding of your positioning.
Express your sincere interest in the position backed up with genuine reasons why you fit their culture and strategy plus how you can contribute. For the receptionist example, "I'm very interested in the receptionist position because I can already see ways that I can organize and streamline the flow of people and information that comes in and out of the company front door. Meeting new people is something I love to do and just sitting in the lobby I could see the interesting mix of people who come to the business."
Have fun. Researching and learning about companies via their public and private personas is interesting. Remember there are no perfect companies so you'll learn the good and the bad. Your knowledge is power.
So let me know how your "job search" goes.
Be On-Purpose!
Kevin