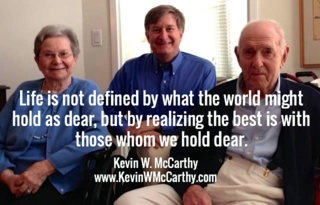 Robert C. McCarthy, my father, died peacefully Sunday morning June 22, 2014. He was 89. He's shown here with my mom and me.

This tribute written back in 2005 captures the spirit of the man and my sincere love and appreciation for him.

March 29, 2005—We sat at the 18th tee box at Isleworth Country Club. My dad and I watched the small parade of the best players in the world of professional golf compete in the Tavistock Cup. Tiger Woods and Annika Sorenstam were teeing it up, as were greats like Sergio Garcia, Ernie Els, Mark O'Meara, and Nick Faldo and others. To be the best in the world—what an amazing accomplishment!
My parents have been avid golfers most of my life. At 80 years of age, my father has had two knee replacements and is the caregiver for my mom. On June 24, 2002, she underwent a hip replacement expecting to improve her golf game and lifestyle. Unfortunately, she suffered a stroke during surgery. It meant her last golf stroke was made the day before. She plays vicariously by watching televised golf. My dad hardly plays anymore.
We hobbled slowly around the golf course, picking our spots, and waiting for the five teams to come to us. Eventually, we perched ourselves in the stands at the 18th tee, a mere ten yards away from the click of the drive on this dogleg right bending around a pristine lake rimmed with ancient cypress trees. When the last foursome of golf gods had pounded their drives out of sight we began our labored walk up the 18th fairway to the shuttle bus pick-up area.
Our walk on the 18th fairway is etched in my mind. As he had most of the day, Dad placed his right hand on my left shoulder to steady himself against the fairway slope breaking toward the lake. The last foursome of golfing greats and their throng of on-lookers had walked the same turf minutes earlier. Now left in their afterglow, it was quietly ours. A yellow-shirted marshal seemed to sense the special moment and joined our labored stroll and chatted. In parting he said to my dad, "You take care of that boy of yours."
Before Dad uttered a word, I honored him, "My dad has been taking good care of me my entire life. It is my turn." Dad knows firsthand the humility, grace, and joy of being a caregiver. In caring for Mom, he has learned to receive. And so it is my honor to serve them both.
It was a day invested wisely. It had little to do with the game of golf and everything about the game of life. I still feel his hand pressing his weight upon my shoulder leaning and trusting upon me for support. Set amid the posh wealth of Isleworth Country Club, the beauty of the Central Florida weather, and the glamour of the golf stars were a father and a son just being together for a day. Our twosome was a non-event in the world of golf, but not in my life.
For me, the best player on today's course never held a golf club in his hand this day. Instead, he leaned on the shoulder of a grateful son. Life is not defined by what the world might hold as dear, but by realizing the best is with those whom we hold dear.