Salesperson turnover is a consistent problem in businesses small and large.
Being a salesperson is a tough profession. It is typically hard work requiring a variety of skills that can often be contradictory within one person. For example, one needs to be persuasive and a leader, yet also a good listener and a servant. The On-Purpose Approach reconciles many of these qualities by placing purpose first and foremost.
Today's On-Purpose® Business Minute explores 3 important elements to set up salespeople (and solo owners) for success and avoiding salesperson turnover.
Culture of belief
Marketing
Sales training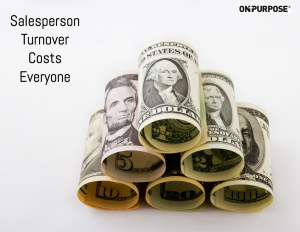 After decades of advising thousands of business owners, the patterns of poverty jump at me. If you are a business owner, sales manager, or a salesperson, then pay close attention to this message. Benchmark yourself against my comments and see how well your selling system operates to support your field. Perhaps there's a reason why you can't find and keep good salespeople!
If you are a Solo Owner, then benchmark yourself against these three measures.
Being the salesperson and the production person presents a unique challenge. Far too often I see small business owners veering into the realm of thinking, Yeah, I think I can do that.
Instead of staying with what one does best and finding clients who truly value your services and where you are expert, we drop down the learning curve and grab work for the money instead of realizing we're losing profitability and diluting our brand by confusing our target audience. It is a dangerous cycle of being money-driven instead of being on-purpose.
Be On-Purpose!
Kevin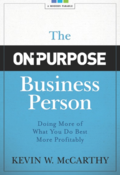 Want to learn more?
Purchase your copy of The On-Purpose Business Person. Click on the book cover to order.