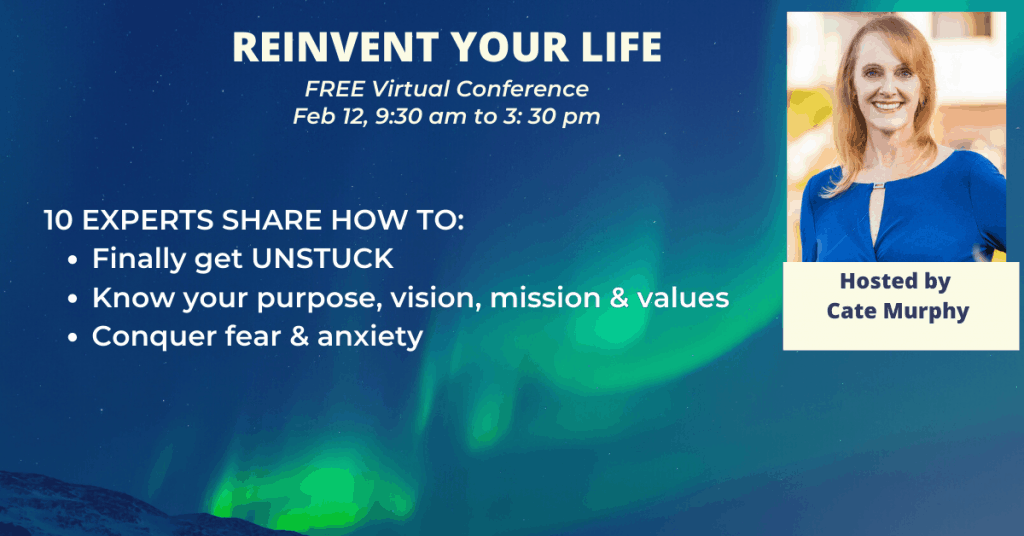 Here's my 35-minute interview with Cathleen "Cate" Murphy as part of her Reinvent Your Life Conference. Below is a list of other authorities Cate interviewed.
Doug Addison, prophetic speaker, life coach, and author of over 30 books and courses including Hearing God Every Day and How to Get Your Financial Breakthrough, also known for his Daily Prophetic Words, Spirit Connection webcast, podcast and blog.
Dawna De Silva, founder and co-leader of Bethel SOZO International, Director of the Transformation Center, author of Shifting the Atmospheres and Warring with Wisdom, international leader of thousands of deliverance ministers, and prophetic voice to the nations.
Dr. Barbara Lowe, licensed psychologist, lay minister, national speaker, Board certified life coach, author of Wholeness Rising: Every Woman's Wholeness Handbook, and host of Live with Dr. Barbara on YouTube and Facebook.
Javier and Christina Llerena, co-founders of a marriage ministry for both singles and married couples, co-hosts of the podcast Cafecito for Two, and co-authors of Boundless Love: Healing Your Marriage Before It Begins. Javier also leads a men's ministry and is founder of Re-invent Coaching, which provides leadership coaching to mid-level managers and teams.
Kate Battistelli, former actress who co-starred with Yul Brynner in the Broadway production of The King and I, co-host of the popular Mom to Mom podcast, and author of The God Dare: Will You Choose to Believe the Impossible? and Growing Great Kids.
Kevin W. McCarthy, author of the best-selling book series The On-Purpose Person and The On-Purpose Business Person, who developed a cutting-edge process for identifying your purpose in under 15 minutes.
Marilyn Vancil, spiritual and life coach, trained Enneagram teacher, and author of Self to Lose, Self to Find: Using the Enneagram to Uncover Your True, God-Gifted Self.
Rachel Thomson, speaker, theology blogger, and award-winning author of 38 fiction and non-fiction books, including Fearless: Free in Christ in an Age of Anxiety, and Your Kingdom Calling: 3 Keys to Discovering Your Calling and Purpose in the Kingdom of God.
Dr. Robin Perry Braun, author of four books including Thrive: Applying Biblical and Quantum Energy Principles to Live a Transformed Life, trains and certifies people all over the world in how to release blocks to our desires so we can live a fulfilling and joyful life. Dr. Braun is an ordained minister who also holds a doctorate in Integrative Medicine and a Master's In Psychology.
Dr. Susan B. Mead left a very successful corporate career to become an entrepreneur, inspirational speaker and author of Dance With Jesus, and Don't Go Through Life Naked: How to Clothe Yourself in God's Power to Walk Through the Challenges of Life and Step into God's Promises Every Day.
BONUS (available with lifetime access): Shae Bynes, entrepreneur, business strategist and author of Grace Over Grind and The Kingdom Driven Entrepreneur's Guide to Goal Setting: What it means to be Kingdom-driven, how that affects every area of your life, and how to move forward when you don't know what to do next.