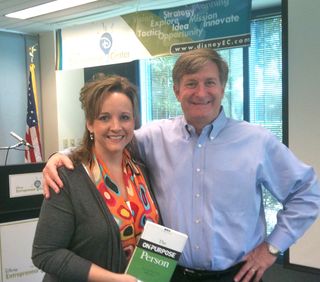 This morning, I kicked off my shoes and listened to Disney Entrepreneur Center.
Carrie plays in the noble space of helping professionals, business owners, those in career transition, and other self-employed persons work more successfully from home. She trailblazed her way and is marking the path for others to follow in her footprints.
If you've followed me for any length of time, you know that I'm a fan of the creativity, productivity, profitability, and contribution that starting and owning a small business offers. Business can be a pure vocational expression of your purpose, and, therefore, an opportunity to be on-purpose. Because of a similar heart to Carrie, my On-PurposeME program is designed for the SOHO (small office, home office) start-up or running business owner. You just can't know enough.

Carrie is a great model for creating on-purpose work at home business. Sitting in the front seat and I could see it in her eyes. She's having the time of her life doing good while doing well with maintaining defined personal boundaries and a strong commitment to her marriage, family, and clients.
For years, I've been teaching that life balance is a myth. Carrie shared those nearly identical words with those in attendence. Coincidentally, my On-Purpose Minute on Tuesday was entitled: Do You Want More Balance In Your Life? (Be sure to look for the link to my poem: A Balanced Life.)

Here's my recommendation to you, visit Carrie's website (click the banner below). Subscribe to her email and video messages. You'll find that she brings a fresh encouragement and spirit similar to me when it comes to being true to yourself and taking the leap into business ownership.

Watching Carrie in action was educational and engaging. If you are a fan of On-Purpose and fit the target audience of wanting to be a work from home business owner, then jump bare feet first over to Carrie's website and get a little cyber sand between your toes.
Brand Backstory:
Carrie shared that in 2003 her husband, aka Mr. Barefoot, tagged her as the "Barefoot Executive" while she made the career transition from high school teacher to stay at home business executive / owner. She was running around the home conducting business in her barefeet and he lovingly made the observation. Carrie made note of his term of endearment. Three years ago, she birthed her business of helping others make the great escape from the corporate world.
I had to chuckle when she said, "I'm from Texas. We understand branding. It is the way we keep track of our cattle and keep people from stealing them." It was a great reminder that business branding is rooted in some pretty practical stuff! With Carrie's help perhaps you, too, can leave your footprints in the sand… on-purpose, of course.
PS – yes, Carrie Wilkerson spoke to us in her jeans and barefeet!
PSS – Special thanks to my friends Wendy Kurtz and Roy Reed for organizing and inviting me to the event at the Disney Entrepreneur Center.
Wendy Kurtz is President of Elizabeth Charles a niche PR firm that helps authors, speakers and executives get their message and medium into the media and into people's lives.
Roy Reed is a Partner in Consensus Communications, a strategic public relations firm whose currency of choice is trust.