"How much planning is enough?" is a question I'm often asked by business clients. It poses an interesting query because some of us are planners and others of us are more action-oriented.
There is a fine line between "gettin' ready" and "gettin' going."
None of us are immune from the dilemma of how much is enough.
I see this in my business and life, and, even, authoring books and articles or producing On-Purpose Business Minutes.
Here's one of my On-Purpose Proverbs on the topic. Perhaps it will give you a rough rule of thumb:
People who don't have time to plan, need to plan more. People who have time to plan, need to execute more.
Figure out which one "people" you are and adjust accordingly!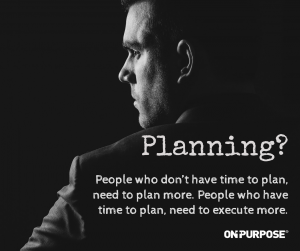 Here's a bit of a litmus test for you to see if you've got it right.
If your business is making sufficient revenue AND you have a high degree of personal and professional satisfaction PLUS you're optimistic about the future, then chances are you've struck the right chord. If, however, the previous sentence doesn't describe your current reality, then use The On-Purpose Proverb above to make a quick assessment of where you need to adjust your attention to find improvement.
Planning is typically considered to be in the wheelhouse of strengths for executive officers.
The reality is we all need to be planners to some degree. The difference in planning from the boardroom compared to the mail room is the scope and authority of the influence. The greater the authority and number of people following the plan, the more important the role of planning becomes to the organization.
Oh! One last thing. When doing planning, please make sure you execute on at least one thing: create a written plan, even if your plan is as simple as a "to do list" with names and dates. The "I Got It Right Here Between My Ears Plan" is really a dream without a deadline, details, and typically, satisfying results. You're too at-risk of being distracted by shining new objects that cross your path.
"The executive of the future will be rated by his ability to anticipate his problems rather than to meet them as they come." — Howard Coonley
---
Admit it! You're prone to unproductive distractions, but chances are if you're a person who invests time to watch the On-Purpose Business Minutes, then you're committed to working on you, to becoming a better person and leader. What tips or suggestions can you offer us? Please use the comment section below to share your wisdom and school of hard knocks lessons learned.