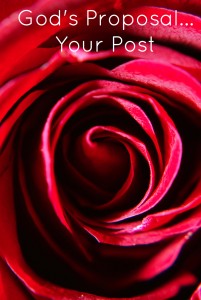 Readers of God's Proposal requested a webpage for comments.  Here it is! This is a moderated page so your comments may not appear immediately. In posting, you're also granting us the right to make edits to typos and grammar or to shorten text when appropriate. You are posting your comments in the public domain for others and us to see and quote. Spam will be deleted.
You may remain anonymous or share as much or as little of your personal information as you like by the way you sign in below.
Purchase God's Proposal on an 11″ x 17″ durable paper, full color poster.