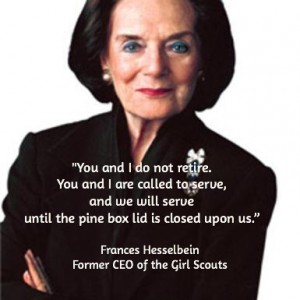 This quote relates directly to being on-purpose.  Your 2-Word purpose statement begins with, "I exist to serve by…"  Being on-purpose, therefore, is a lifetime and attitude of being in service without regard to your current condition or place of employment.
I saw this quote today and took the liberty of setting it up with the image.
If you don't know who Frances Hesselbein is then dig into her story and life.  She's a remarkable woman
Read about the Frances Hesselbein Leadership Institute
Watch her at West Point where she serves.  At this time she was in her early 90s and is now in her late 90s.  Her spirit and pine box are both still open.
Frances Hesselbein, To Serve Is To Live. from Hesselbein Institute Videos on Vimeo.