Chapter 20 of the 1998 version of The On-Purpose Business is titled The Micro-Business, a term I coined then to describe a growing trend of the workplace moving into the homestead. SoHo is a subsequent term that means "Small Office, Home Office." In the updated version of The On-Purpose Business Person, I decided to go with a new term: Solo Owners. This term includes the one person shop as well as the single owner or couple with employees.
All of these terms describe a growing percentage of the working population who are setting up business from their home either by design or by necessity because of being out of work. These are the brave men and women who tackle the many challenges of owning a small business.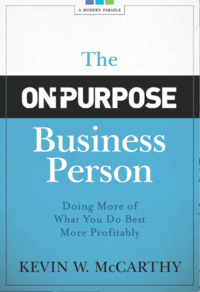 Typically, it is best to think of Solo Owners as one-person shops with support that is either virtual or in close proximity.
Professionals such as doctors, lawyers, CPAs, architects, and engineers
Skilled trades like carpenters, plumbers, and landscapers
Independent cottage industrialists, inventors, counselors, coaches, consultants, and salespersons
Creative persons like artists, musicians, writers, and songwriters
Many operate micro-franchises such as those found in the direct sales industry with MLMs and party plan companies.
Solo Owners are diverse, but their challenges are actually quite predictable.
They share a common ailment: what they imagined it would be like and what it is really like are different from what they anticipated.
If you are a Solo Owner, you'll probably relate to the challenges of getting things accomplished, managing your time, and the constant learning process. The absence of co-workers and mentors is frequently mentioned as well.
What to do? Here's a simple business leadership growth plan:
Learn about business
Learn to lead yourself and others
Learn how to cooperate and work with others
Solo Owners easily fall into the trap of what I call Hellegation™ – the inability to delegate that creates a living hell on the job. You have a choice: delegation or Hellegation! Follow the advice above and you're on your way to salvation.
If you're really stuck, then invest in On-Purpose Executive Coaching to find the freedom business ownership promises to provide.
So, what are your challenges with being lonely at the top and the bottom?
Please share a tip for other Solo Owners below in the comments section. Or ask a question and I'll add what I can to answer your questions, direct you to resources, or point you toward someone else who can assist you. Others may help you as well. We solo owners need each other. Let's start now.
Be On-Purpose!
Kevin