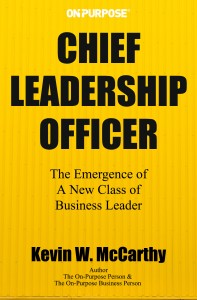 Update: As of 6.1.16 you may Pre-Order the book today at: http://www.clonow.com.
Every business book you've read and every class, seminar or workshop you've taken over the past 25 years or more was built on the basis of a Chief Executive Officer (CEO) being in charge. What if the effectiveness of that foundation is crumbling beneath you at an alarming rate? What will be different in the management and development of organizations? What is the impact on employees? What has to change for you?
In the future, expect your CEO to grow into or be replaced by a person known as a Chief Leadership Officer™ (CLO). This top leader in your organization will have two primary missions:
Position the organization to be a leader in its chosen field;
Position the people within the company (and beyond) to be leaders of their lives and work
All the business disciplines you're accustomed to seeing, such as finance, marketing, operations, etc., will still need to happen.  CLOs, however, have a more complete orientation as to the roles and responsibilities of leading enterprise. Whereas CEOs focus on management and administration of the business for shareholder gain, CLOs focus on leading and navigating the company to be a profit-maker true to its purpose.
People in this present Digital Age and the coming Age of Purpose deserve and expect meaningful work, fair compensation, positive working conditions, and respect for their person. CLOs understand that cultivating these measures begins with a clear articulation of organizational purpose and the sincere desire to be positive difference making or contributors to societal improvement.
The Conviction of CEOs

Business leaders have a real problem: they profess innovation but they're the last to innovate. The financial and human costs are mounting.
Something is wrong, seriously wrong in the state of practical affairs in for-profit and not-for-profit organizations alike. During my decades in business I've found the overwhelming majority of my client CEOs, C-Suite teams, managers and employees are good people with a desire to serve the customer while putting in an honest day's work and then some.
In 2015 Gallup Consulting reported that only 32% of the employees in the U.S. are engaged in their work. This isn't necessarily an indictment of the employees. One might argue, very rightfully, that when 68% of the workers are disengaged the blame falls at the feet of the executives or employers.
This is only partially accurate. Each shares a measure of the responsibility.  If the employee is disengaged then it behooves them to go find work where it is engaging. If the employee base isn't engaged, then management better look at their On-Purpose Business Plan for deep answers. Normally, however, they'll take an expedient, more shallow approach and address the obvious points of "blame" such as hiring practices, on-boarding, training and such.  When in doubt, blame HR! Sadly, HR is dealing with the symptoms of an under-leading C-Suite.  To learn more watch this 9-minute video called: The On-Purpose Business Plan.
CEO-to-CLO
Chief Executive Officer (CEO) is fast becoming the symbol of an antiquated title, mindset, and role that is increasingly missing the mark for profiting business and society … and getting worse by the day. This relic of the Industrial Age in the highest corporate office is the final holdout from innovation.
Our system of doing business, not the people, is broken and out-of-sync with our times. The Industrial Age ways and days of a CEO-run company are coming to a close.
Government intervention in business too often chains the self-correcting mechanism of the free enterprise system making matters only worse. The evidence mounts that more than a technical correction is needed. Such a reformation must come from within business.
What we face is a systemic problem—all of us are affected!
CLOs, Right For People and Society
The opportunity is remarkable. Business funds nearly every facet of modern society. The role of commerce and industry in society has never been as powerful and far-reaching.  It has also never been as short-sighted and squandering of the available talent and resources.
Those in the workforce are increasingly burned out, bummed out, or checked out. Such a widespread sell-off of dreams and hopes in exchange for a paycheck is killing our souls, all in the name of shareholder value and a flawed understanding of profit.
CLOs get that when The On-Purpose Principle is at work there's an release of human potential and an unforced pace, productivity and commitment.  When a person's heart is in their work, everything else is so much easier.
The Title Fight
Where are the leaders, the pioneering CLOs? Who will arise to lead in the Age of Purpose? On-Purpose Partners is leading this call to be about business differently.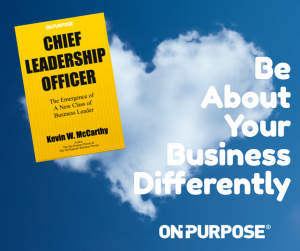 Chief Leadership Officer is a future-facing story making the call for CEOs to replace themselves and become CLOs as the top officer in the company. CLO-led organizations actively elevate the prosperity of society to create win-wins.
Like it or not, being a Chief Leadership Officer (CLO) is what's next in the career path of the forward-thinking CEO or start-up entrepreneur. Business leaders of tomorrow will operate decidedly different.
Chief Leadership Officer: The Book
This new book is a fast-reading narrative of a sage 100-year-old great-grandfather and his unsettled Millennial great-grandchild, the CEO of a 5-year-old tech firm. Together they launch a hero's journey to discover a better way to be in business. First they must discover the precepts, promise, and purpose of a new manner and mindset for being in business. Chief Leadership Officer is the embodiment of their work.
Chief Leadership Officer respectfully enters the corner office of CEOs, challenges widely held norms, and calls for self-interested reflection.
Aspiring and current business leaders will be faced with making a decision: Will I be a Chief Leadership Officer?
Every employee will ask, do I work for a CEO or with a CLO?
Business persons, especially entrepreneurs to CEOs, are invited to embark on their own hero's journey to take part in a CLO-led reformation. It is a team effort. Every reader has a chance to join the movement, to embrace an emerging manner of being in business today in order to profit tomorrow.
Join The CLO Cause
The CLO message is bigger than me. It needs a bigger platform than I can provide on my own. Chief Leadership Officer will also be a seminal work impacting generations to come. Be a part of breaking new ground and setting a healthier, more wholesome course for people and companies for decades to come.
Starting June 1 and running to June 30, 2016 you can pre-order the book at Publishizer.com, a crowd-funding platform for authors. Funds will go toward production and promotion. There you can download the first few chapters and get a read on the story line.
Write to me. Give me your feedback. This will be a collaborative writing project. Advanced readers will be able to offer insights and ideas that may work their way into the book.  Visit www.ChiefLeadershipOfficer.com.
I can readily self-publish this book on my own; but the message is too big for me to handle alone. The book needs the clout, resources, and reach of a traditional publishing house partner. Therefore, I'm seeking a capable and committed publisher who is as visionary and excited as I am about what we can do together. Pre-orders are a form of proof that readers are interested.
Please join me in this cause to positively reform business for this and future generations by pre-ordering the book for future delivery.
Be On-Purpose!
Kevin