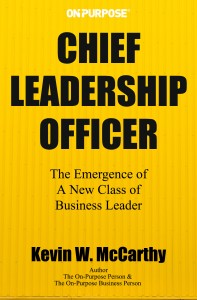 Chief Leadership Officer presents an On-Purpose® based advanced alternative to the traditional CEO–run management system and method. It takes a choice to lead a business in this manner.  
Most start-up businesses begin with great intentions, but too often wind up being haphazardly led with little to no regard for the founder's spirit or original intent—even if the founder is still running the business! It is a costly loss of strategic advantage, employee and customer engagement, and business profits!
Most susceptible to this drifting from the founder's intent are large organizations and institutions where work is highly fragmented across divisions or countries. Specialization must be paired with a sustainable corporate culture that honors and innovates upon the strengths of its past and informs the future.
For example, did you know that universities and colleges such as Harvard, Yale, Princeton, and other Ivy League colleges were started as seminaries to train and equip ministers in the Christian faith? Today, these academics bastions of intellectualization and secularization are so far from their founders' intent that their roots are obscured, if not outright ridiculed. So much for the founders' idea of a truly "higher" education.

Large businesses are very susceptible to losing a measure of their soul. The pressures to produce profits can create expedient behaviors that diminish sustainable brand value and equity. When ethical issues arise the tendency is to resort to conveying and communicating corporate values as a "fix." In truth, authenticity was lost long before and expediency started rotting the roots of the tree long before the "harvest" went bad. When values need to be more codified and communicated than caught, then real business problems are predictably on the horizon.
Solo owners or one person entrepreneurs are susceptible too; but they face a different challenge, however. Founders of these SOHO (small office, home office) businesses are typically wearing far too many hats and are preoccupied with production, sales, or customer care. They're easily caught in a vicious swirl of learning, working, and selling or overwhelmingly stuck in procrastination. Fortunately, their passion to perform typically enables them to muscle through and deliver on a small scale basis.
Solo owners are alone and that's a disadvantage when it comes to doing business by design and being ethical. The perspective of oneself is limiting. If the solo owner is willing to be transparent, here's where a business coach or advisor can lend perspective and accountability. 
Years ago, a client was starting an IT business. He got so lost in his software development, he soon forgot why he started a business. His intent was to help clients, employees, and his family, but he lost sight of the larger picture as he was buried in the details.
It sounds so basic, but the fundamentals of business really don't change because ultimately business is about people serving people. In my client's case, lines of code were the means for creating value and making a contribution. He, however, got caught up in the making of money versus creating an "everyone profits" culture. The true value of his business wasn't code or cash, but grounded in how his software improved the lives and productivity of his client companies. By refocusing his attention on his original "why" and design for starting the business, he was able to turn around the business.

Any kind of plan or business plan for small businesses tends to be scarce. Who has the time to plan? or so the thinking goes. Understandably so because they're really not all that appropriate or useful in many businesses (See: What is the Purpose of a Business Plan?). Nonetheless that doesn't mean strategy and planning are useless and meaningless. They have a specific and powerful place in a company of any size.
(Special plug: A couple of years ago I met Jim Horan, creator of The One Page Business Plan. Here's a great planning device for businesses of all sizes. It is, however, especially apropos for solo owners. Also take a look at The Service Model, a one-page organizing tool for businesses.

Regardless of whether you are an entrepreneur of a one-person show or the CEO of a billion dollar business, as your business advisor and designer, you don't call me until there's a problem in the business that your team or you can't fix yourselves. Your SWOT Analysis only takes you so far.
Let's assume that you are competent at delivering your product or service, but the business isn't growing. That means the problems lie in the design of the business or the leadership or both! Conversations and conventional wisdom swirl around business infrastructure, business planning, and the business model, but it is like a fish swimming in water trying to see water—you won't see it because you're too close to the matter.

Times like this demand depth, not shallow manipulations of the status quo under the guise of change management. In the strategic depths of an organization, a slight adjustment in understanding, a tiny shift in strategy, or an orientation toward greater alignment ripple powerfully into positive results. The simple articulation of a 2-word purpose statement is the tiniest of acts, but the most potent of all strategic initiatives.
Tweaking the fundamental design of the business is not for the faint of heart. Eventually, failure to do so will be manifest in every facet of the business … and that's costly at every line item on the budget. Strategic business design can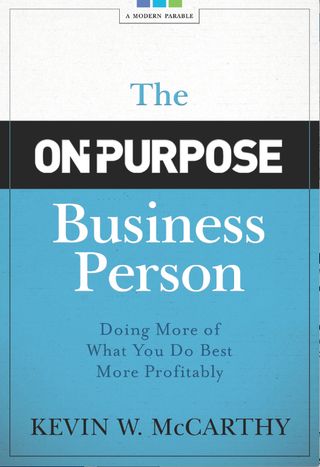 elevate the business to the next level of performance, profits, and expression of its purpose. 
———
The On-Purpose Business Person provides a solid framework for any person at work to learn how to treat their work as a business. Click here or on the image to the right to purchase it for $16. It is also available on Kindle for $9.97.