Stop "shoulding" on yourself and others.
Should is a powerfully debilitating word. It combines the spirit of good intention with a built-in disclaimer of failure. It is more potent than wishful thinking but far less honest. At least when we wish, we don't really have the expectation of it coming true. Should—however directive and well intended—is deceptive and shame inducing.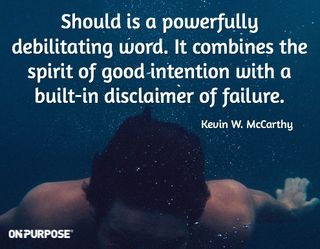 Shoulds can be self-proclaimed.
Here are examples of typical shoulds:
"I should lose 20 pounds."
"I should exercise more."
"I should call my mother."
"I should make that sales call."
"I should save more money."
"I should speak up for myself."
These decrees of self-deception are mere words tossed off our tongues so we sound like we're on top of a matter and knowledgeable … when, truthfully, we are not committed. Words without action amount to just a pile of sh… shoulds.
These "I should … " statements are weasel words that neither inspire nor encourage.
Instead, we exile ourselves to be mired in mediocrity.
In the pairings below, which statement do you find more believable?
"I should lose 20 pounds." Or "I will lose 20 pounds."
"I should call my mother." Or "I will call my mother."
"I should get a better job." Or "I am working to find a better job."
The bottom line: Strike should from your vocabulary whether talking to yourself or someone else. People of strength don't mince their words by shoulding on themselves or others.

P.S. As promised, here is the link to the free Discovery Guide preview. Use this preview version to gain clarity and direction for your life so you can say "yes" to what's important to your life, career, and work.
Be On-Purpose!
Kevin