Dare You Risk Leading Your Life Better?
Here they are: The 7 Great Questions about life that haunt us until we answer them, deny them, or simply overwhelm them in a soulless chase for gain and/or pleasure. 
Who am I?

Why am I here?

Where am I going?

How will I get there?

What is important?

Is life meaningful?

Does God exist?
You may think, With all I have to get done, I realistically don't have time to mess with these questions. Here's a tip for life: until you begin answering these questions, they will mess with your life. The sooner you start, the better off you'll be.
Don't put your life on hold until you have definitive answers. Simply explore your possibilities. Make it a joyous adventure of daily discovery as the layers of your life unfold before you with a sense of wonder and excitement.
Think it's impractical with all you've got going on? Hardly! Stop wasting your life in trivial pursuits.

Answers to these questions fill in the soul gaps—those places within us that we know are there, but aren't quite sure we want to or know how to get there. It can be a scary place to visit, like a closet of dashed hopes, painful memories, unrealized dreams, disappointments, and pain. On the other hand, it is also a journey of hope and healing to the heart of who you authentically are. Here's the only place on the planet where you can discover your true identity and begin the process of reorienting your life on the strength, function, and contribution you have to give. Transformation begins in the spirit. Knowing and bringing expression to your purpose will raise the spiritual and practical trajectory of your life forever.
On-Purpose Leadership Experiences: Helping you process your answers to Life's Great Questions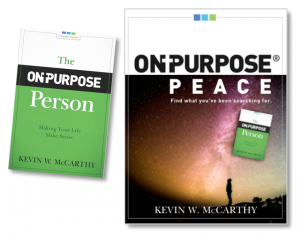 One-on-One Coaching with The On-Purpose Person and either My On-Purpose Folder or On-Purpose Peace as the coaching agenda. This is typically 8 coaching sessions in 8 weeks with a trained coach. Your investment is $1,500 to $5,000 depending upon your coach, circumstances, and needs.
Do-It-Yourself. Buy The On-Purpose Person and On-Purpose Peace. Work through the content on your own or with a small group. Your investment is $35 per person.