Succeed at the Intersection of Selling and Living.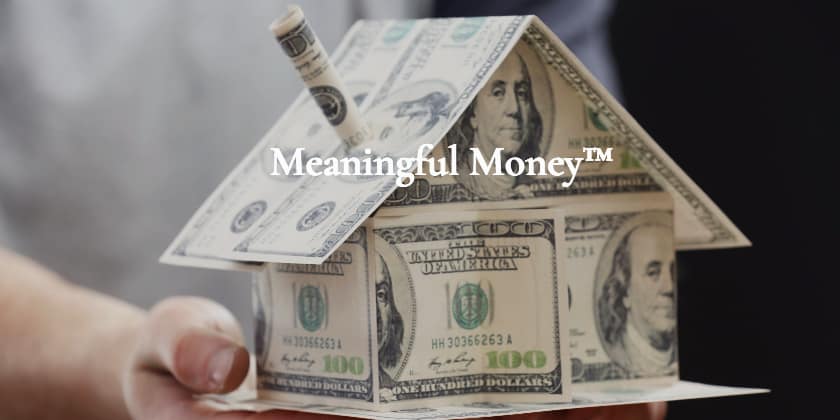 Keynote, Programs & Training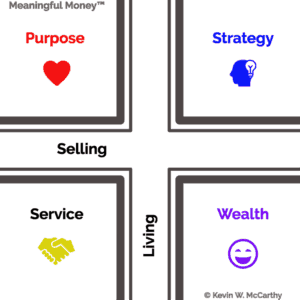 There's an innate desire within us to know that we're making a difference. There's also a reality called we have bills to pay. Meaningful Money shows the way to integrate and engage these seemingly opposed motivations to create positive and profitable outcomes for all.
The Meaningful Money Method is so basic that a second grader can grasp it. Yet, like any competency, it takes commitment and work to master and upkeep. As the graphic to the right depicts, Purpose, Strategy, Service, and Wealth form the four corners found at the intersection of Selling and Living.
When salespeople implement the Meaningful Money principles and practices, they operate in a natural groove for sale growth. Additionally, sales managers are freed from being drivers and motivators as they transform into sales leaders and guides.
Integrating the need for meaning and the need for money isn't just possible—it's the most profitable and wealth-increasing way to be in business. There's both a science and an art to aligning the self-interests of seller and customer alike.
Best Audiences
Meaningful Money™ is for new sales people and veterans alike:
Licensed sales professionals such as insurance, financial services, real estate, mortgages
Small and mid-market CEOs who are often the main revenue generator
Rainmakers in professions such as accounting, counseling, coaching, engineering, architecture, CPAs, and law
Direct sellers
Key Meaningful Money Message Points:
Meaning is the richest vein of authentic motivation.
Answering five strategic questions sets the foundation for real success.
Money follows meaning. Clients are motivated to purchase when their meaning is enriched.
Meaningful Money is the result of making a difference for buyer and seller alike.
Meaningful Money Keynote Address
Keynote addresses are vital to the success of your event. Keynote speakers are typically used to open or close a convention or open and close a day of a multi-day conference. These critical messages may run from as brief as 20 minutes to as long as 75 minutes. The Keynote speaker's role is to uplift the audience, set the stage for what's next, and advance the company's or association's business objectives. Crafting a keynote speech starts months in advance with research, interviews, thought, writing, development, and rehearsal. Like any professional, the best make it look easy simply because preparation and practice preceded the performance. Kevin W. McCarthy has been a continuous Professional Member of the National Speakers Association since 1993.
Meaningful Money Breakout Session
Whereas Keynote Speeches typically inspire and offer valuable take-aways, breakout sessions move ideas into actionable next steps for a smaller segment of your conference attendees.
Clients who engage Kevin as a keynote speaker will often hire him to do one or two follow-up breakout sessions. Breakout sessions typically run from 60 minutes to 120 minutes. The added time and smaller setting give the audience more opportunity with Kevin to delve into more personalized and practical application of the Meaningful Money™ Method. Typically, this includes:
Discovering their Complete Competency™ strengths and gaps
Writing a personal 2-word purpose statement using our proprietary tool found at www.ONPURPOSE.me
Building an individual making Meaningful Money™ Sales Professional Roadmap
Meaningful Money™ Training Programs
Training programs run from a half-day to a multi-day training typically hosted at or near your location.